How have you been? The year so far has been hectic, we're not gonna lie. We think that the fact that we've all overcome the gloomy winter and all that came with it is enough to reward ourselves with something bright like spring's blue skies and more sunshine.. 
That's how we started coming up with the concept for Moi Moi's Spring 2020 Release. We wanted pieces that are bright and bold; a lineup that does not hold back. Part of the collection draws inspiration from vintage glamour and turning these into modern wearable versions – including a few retakes on the traditional trilogies into a much more refined, modern version. You'll notice a few of the designs have a lot of fine details such as milgrain and pave set elements.
The other half of the collection are pieces which are bold and stunning. Big centre stones, fully-detailed halo and setting, and substantial bands – something with the wow factor. Most of these rings are designed to be stand-alone pieces, but some can be worn either as a right hand ring or as an engagement ring with matching bands, such as Arianne, France, Roma, Lana, etc.
Here is the incredible lineup of our Spring Release 2020: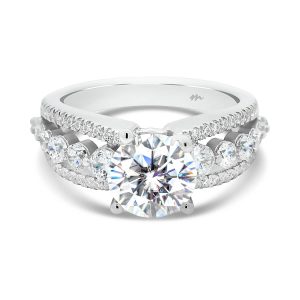 with its distinct band and a contrast on stone size and setting technique, creates a captivatingly big look.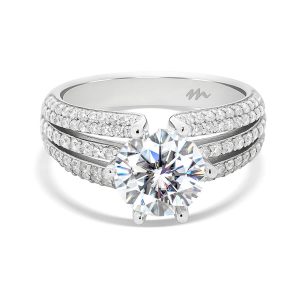 The Dior Ring has its bold contoured triple band, where the outer bands are designed as a double-row pave set. The side view is very pleasing – the shank acts as if they are holding up the crown jewel in the centre.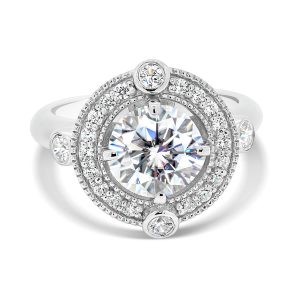 Heaven is a ring with big impression: Milgrain halo with two distinct bezel set stones at north and south, complemented further by two bezel set side stones on a knife-edge band.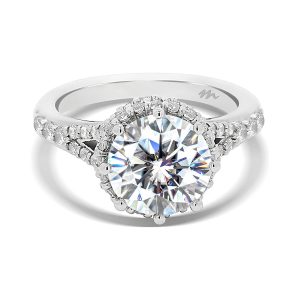 A semi-halo ring, the 'Jeannie' has a stacked halo most visible from the side hugging the setting, finishing on a split band.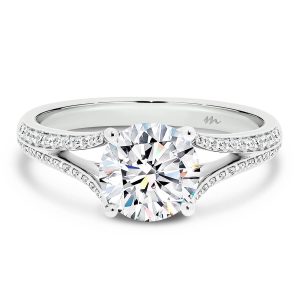 'Nevina' is a refined and delicate ring, great for those looking for a fine delicate look with big sparkles. The band tapers finely towards the setting with a completely open gallery. The ring has quite an 'airy' look to it.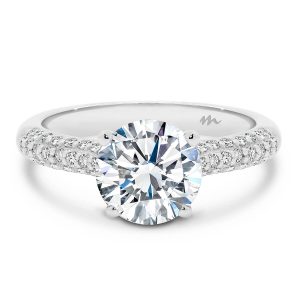 'Rosita' is our redesigned version of the 'Roma' ring with a rolling triple-row pave set band and open gallery. It features a delicate look with lots of sparkle.
'Lotus'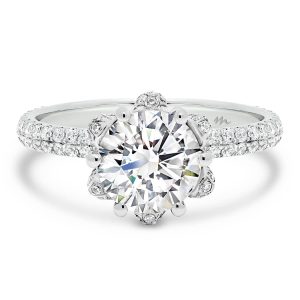 Lotus is a fancy piece that will appeal to a specific group of customers who are very feminine and like lots of florals and pretty details. The piece is a blooming flower in action – the side view mimics petals stamen of the floral.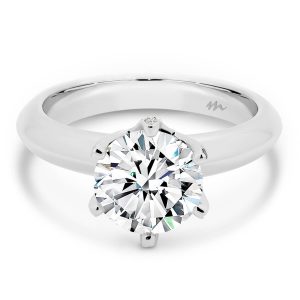 Fiore gets an oval version–a simple solitaire from first glance with hidden sparkles when viewed from the side.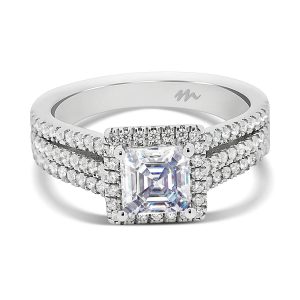 Kara is a ring that needs to be tried on to be appreciated. Structured and symmetrical, it's a hidden gem for princess-cut lovers.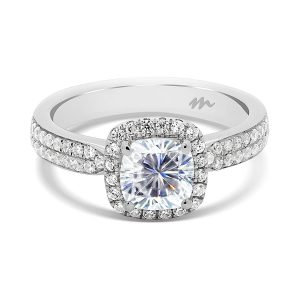 Chrissy can be easily overlooked, but this is actually a great ring for those who want understated glamour. The cushion-cut centre stone is set low on a delicate double-row pave set band offering clean contour lines.  
'Arianne Emerald' and 'Arianne Oval' are super elegant. The two-tone setting creates a beautiful contrast, and the pave-set, knife-edge band is refined and delicate.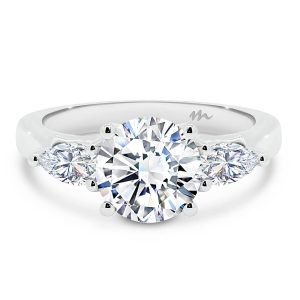 Our simple trilogies have also been revitalised into more extravagant pieces–the 'Tara Oval' and 'Tara Round' are accentuated by delicate pear-cut stones on both sides, and the 'Roxanne Emerald' or 'Roxanne Radiant' is minimalistic with clean structured lines, letting the stones speak for themselves.
We're so excited to have you experience these new designs! Perhaps one of these is the missing piece to an engagement that's being planned for months, or a perfect gift to cheer up a loved one. 
Now, another thing about these rings is that they don't strictly have to be given to someone else–hey, any woman can get her sparkle this spring, too! Celebrate yourself and remember you're awesome by splurging on a ring for yourself, so you'll always know to let your light shine. 
Bring back your life's sparkle this season and remember, even if the times have been a challenge, YOU got this!