Lab Grown Diamond Reviews
See what our customers are saying
about our LAVANA lab grown diamonds
"The team here were really friendly and happy to answer all my questions. I bought an engagement ring and it turned out better than I could have possibly hoped. My fiancé loves her ring. She gets so many compliments from not only friends and family but from absolute strangers who happen to see the ring and can't help but want to get a closer look."
– Ross S.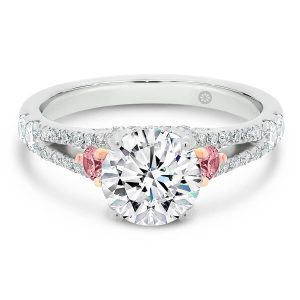 "I had such a lovely experience buying my earrings from Moi Moi. I had been wanting some lab-grown diamond earrings for a long time. Alana and her team were patient and helpful and actually at one point suggested the smaller size might suit me better – that is when you know you have found a jeweller you can trust 🙂 I am so happy with my new earrings and absolutely would recommend going to Moi Moi if you are looking for quality jewellery!"
– Panna D.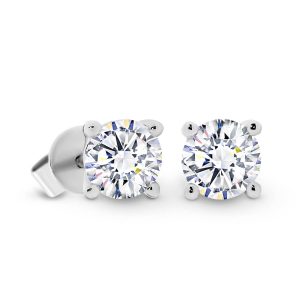 "I've had the most AMAZING experience with this company! I ordered my ring in a quick flurry and not only was it created and shipped quickly, but once I realized I had sizing issues I was helped promptly. I was sent the sizer to get the fit perfect, labels to ensure safe shipping and constant updates as to production and resending dates. I'm in love with my lab-grown diamond Rosanna 3.0. Shopping high quality items from afar has never been so easy!!"
– Stacey G.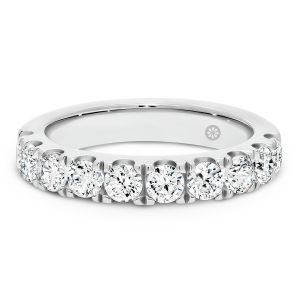 Our search for pink diamonds ended when we walked into the Moi Moi QV store. We were interested in real... read moreOur search for pink diamonds ended when we walked into the Moi Moi QV store. We were interested in real diamonds that were kind to the environment- but would these stack up in terms of their ability to dazzle us? The answer is yes! Love our white + pink diamonds trilogy ring. Oz made the process, from designing the custom-made ring to selecting the diamonds, so easy. read less
We found Moi Moi by chance one day when a birthday surprise had to be rescheduled and first met Oz... read moreWe found Moi Moi by chance one day when a birthday surprise had to be rescheduled and first met Oz to have a look at my engagement ring for which I knew I wanted a lab grown diamond. Over the course of the year, we ended up going back to Oz to purchase multiple pieces of jewelry for our wedding. Oz has always been so warm, knowledgeable and very patient. Moi Moi is now our jeweler of choice - I wouldn't go anywhere else. Thank you so much Oz. I couldn't recommend you and your team enough! read less
We've been to Moi Moi quite a few times now in the past year and the service has been nothing... read moreWe've been to Moi Moi quite a few times now in the past year and the service has been nothing short of excellent. Oz has always been very attentive to our jewellery needs and has never disappointed. Our biggest attraction was the fact that they make custom Jewellery with ethical lab grown diamonds, which was an important factor for my fiancé and I. read less
I would like to thank Agnes, Sophia, Oz, and team, as well as the ringmaker/goldsmith, for helping me pick, design... read moreI would like to thank Agnes, Sophia, Oz, and team, as well as the ringmaker/goldsmith, for helping me pick, design and make my wedding band. They were all so kind, patient and helpful with all the back and forth updates for the design. I had never thought of getting a pink diamond before!! So I really appreciate their encouragement for thinking outside the box. In addition, thankyou for allowing walk-ins without a booking! As you can tell, I am a last minute person haha! 🙂 read less
Thank you to all the Moi Moi team!My rings are truly amazing. Words and photos just cannot do them justice.... read moreThank you to all the Moi Moi team!My rings are truly amazing. Words and photos just cannot do them justice. The way they sparkle and the weight of the platinum bands are just breath taking!These rings would not have been affordable if I had gone with mined diamonds. I 100% made the right choice in choosing Moi Moi to make my dream rings come to life!Most sincere thank you to the team on your beautiful craftsmanship and service! read less
Wow wow wow!! I have just been surprised with THE most beautiful jewellery ever from Moi Moi! My husband has... read moreWow wow wow!! I have just been surprised with THE most beautiful jewellery ever from Moi Moi! My husband has been working with the incredibly talented Lauren and Ozcan at Moi Moi for a number of months. What they designed and made is simply stunning. A beautiful sapphire and diamond necklace with matching earrings. My husband wanted to match a bracelet he had previously bought me and what they have made is matched to perfection. I couldn't be happier! The attention to detail, quality and craftsmanship is beyond incredible. From what I hear their customer service and the personalised approach they took to help my husband design everything was first class. I would recommend the team at Moi Moi time and time again! read less
I bought a diamond ring to propose my girlfriend, it is beautiful ring. Great advice from the staff! Thank you
Great experience and very happy with the customer service. Thank you to Sophia and Oz for all their advice and... read moreGreat experience and very happy with the customer service. Thank you to Sophia and Oz for all their advice and help. Love the diamond ring that we purchased! read less
Amazing service and stunning conflict free rings.After a lot of researching for the perfect conflict free engagement ring I found... read moreAmazing service and stunning conflict free rings.After a lot of researching for the perfect conflict free engagement ring I found myself at Moi Moi. They have such an incredible selection of beautiful rings, all conflict free and lab grown - which is perfect for the conscious consumer! I was served by Oz on both of my trips into the store and he was so helpful, with great advice and was very accommodating (I must have tried on half the store!). I absolutely love the ring we chose in the end and I cannot wait for it to be finished! read less
Had a fantastic experience with staff at Moi Moi! Puchased an amazing lab-grown diamond ring here and the quality of... read moreHad a fantastic experience with staff at Moi Moi! Puchased an amazing lab-grown diamond ring here and the quality of the ring as well as the customer service was excellent. The staff were very patient and informative. The price was of course much more reasonable than any of the other diamond jewelers we went to. Would definitely recommend to friends and family. read less