For Him: A Men's Guide to Buying the Perfect Engagement Ring
It is very likely that you landing on this article is no accident. You've found the perfect woman and you have the intention of offering her a proposal that will change life as you knew it. And as suckers for all things love and marriage, we're giddy with excitement for you too. But this brewing thought does come with a lot of questions (How to pop the question? Where and when? Who to invite to witness it? Should you invite anyone at all? Is it better to have it just between the two of you…the questions are endless!). Then, consider us your friends who, fortunately, have some know-how about the questions going through your mind right now. 
Every great proposal has three important elements: your love for her, the sincere speech that won't leave out any dry eyes in the room, and a dazzling engagement ring to seal that beautiful moment. The first two are easy–once you're sure of someone, these things are a no brainer.
But then, there's the ring. 
First of all, HOW do you choose a piece of jewellery for your beloved that shows her how much you love her and how much you know her?!  The pressure is on to make a great choice. It's no small task, this we all know. However, this can be made much easier once you learn a couple of simple rules.  
Set the budget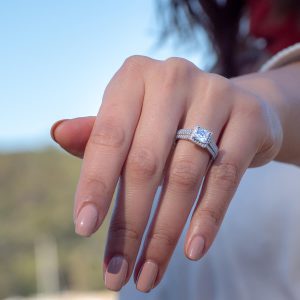 It's always a good thing to give the very best for the woman you love. The finest things in life don't always have to be the most expensive ones, though. Stay grounded in your financial means as you consider the ring for her. It's not a great idea to start off in debt or on a payment plan.  By purchasing an engagement ring you can afford, rather than following old, outdated rules like having to splurge beyond your means, you'll reduce your financial stress and anxiety as you start your life together. 
Guess what? Today, there are so many amazing options out there that are just as good, if not better than the expensive rings! Ever heard of Moissanite or Lab-Grown Diamonds?  You'll be amazed that the ring of her dreams is achievable.
Don't just hope for the best that the ring will be the perfect fit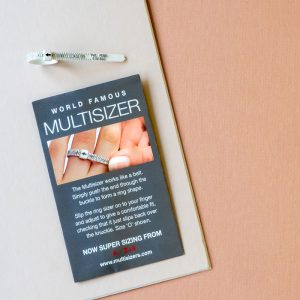 We're talking about the ring size here. What happens if the ring is everything she ever imagined it to be…until she tries to wear it and she CAN'T? You don't want a ring that's cutting off her circulation nor one that's always at risk of falling off and getting lost. It should feel snug but comfortable on her fingers. Then again, getting the right ring size is easier said than done, especially when you don't want to spoil the surprise for her. So what are the ways to sneakily get her size without her getting suspicious? We've previously written an article about that here. 
Think about her style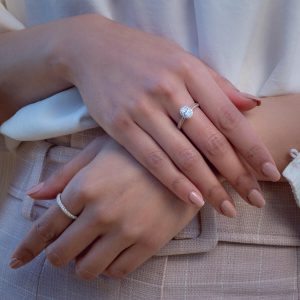 She's the one wearing it, after all. In general, women who are in a serious relationship already have a picture in mind (or in their secret Pinterest accounts!) about the kind of engagement ring that they want. These rings come up from their style, preferences, and symbolisms close to their heart. Some women do drop hints or even pass on Wish Lists,  about the rings that they want (good for you if she's like that) but for some, they prefer giving you a little more challenge. And that's also a good thing if you think about it–she's made your job a whole lot easier. 
If her lips are sealed about the kind of ring she wants, simply take a look at the accessories and jewellery she already owns.  These items will give you an idea about the style she's comfortable and happy with. You can also observe her way of dressing up. For instance, if she gravitates toward floral vintage dresses, consider ring styles with vintage, royal-like elements. If her style is sharp and sleek, try a more classic, minimalistic ring. You can also ask her friends about her current preferences, or look back at the past gifts you've given her and see which ones she uses most frequently.   
Engagement ring options to consider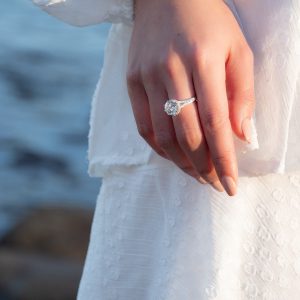 As you look around for some possible ring options, you may consider Moi Moi's newly released Spring Collection. Our designs are inspired by the brightness of Spring–pieces that don't hold back in the glamour department and would surely put a radiant smile on someone's face. These pieces highlight the SUPERNOVA Moissanite in impressively huge cuts. 
If you prefer diamonds, you can also check out our pieces from our lab-grown diamond line. These are exquisite, fashion-forward, reasonably priced, and come from more ethical origins compared to the mined ones. No wonder many modern couples prefer this, instead of pushing for the traditional diamonds!    You'll get much more value for money, meaning you can get a bigger diamond!
Whichever ring you have in mind, all of our team are experts and jewellery lovers, and will be able to guide you in selecting the perfect engagement ring.   If you can't make it to our Sydney store, you can do a  real-time chat or video call with our jewellery representatives to go into a more detailed discussion about your ring options! We can't wait to help you with your ring-buying journey!