We have created this Buyers Guide in 6 easy steps to help you find your perfect wedding ring. You'll be totally informed!
Where to start?
Know your size
Choose a style
Decide on the thickness and width
Choose a metal
Choose a finish
Choose a price
1. Know Your Ring Size
In Australia, ring sizes for men's ring are from Size F to Size Z+6 in graduation of 1/2. The average men's ring size is S. If you do not know your ring size you can request a free ring sizer from us. It is easy to use and accurate. The size is important as the price of your ring is determined by the size.
2. Choose A Style
You have many choices, from simple and classic bands to intricately patterned or engraved wedding rings. If you can't find one, we can always design and make a unique one for you,
Explore our vast range of men's wedding rings online, or try them on in our Sydney flagship store.
3. Width and Thickness
Most designs can be made in any width or thickness you like, depending on the design or if there are stones set in the band. The available width and thickness of the ring can be chosen in the drop down menus on each product page.
The most popular width for men's wedding rings is 6mm wide, and 1.6mm thick is the most popular thickness. It gives a nice weight to the ring, and allows for a slight comfort fit.
A comfort fit is when the inside of the band is curved instead of flat.
8mm or Wider
When a ring is really wide, it feels tighter on your finger, so for men's rings that are 8mm wide or more, we usually recommend working out your normal ring size, and then ordering your ring half a size bigger.
For example, the DIY ring sizer measures your finger at size T comfortably. We then recommend ordering a size T1/2.
4. Choose A Metal
Your ring can be crafted in your choice of metal to suit your taste and lifestyle.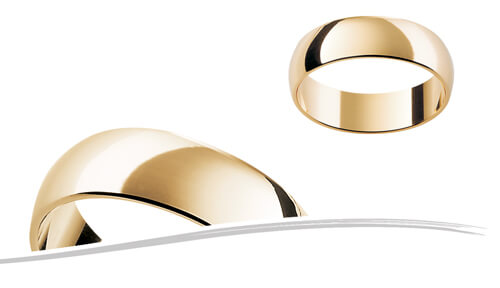 Yellow Gold
Gold is a classic choice for men's wedding rings, with the warm yellow colour giving a traditional look. Choose between 9K or 18K gold options.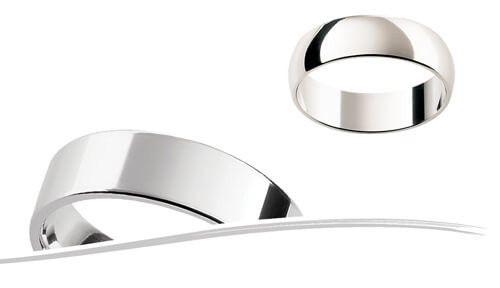 White Gold
White gold rings boast a bright, white colour that gives them a clean and modern feel. Choose between 9K and 18K options.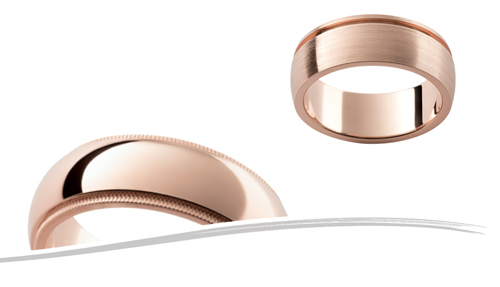 Rose Gold
Rose gold is created by mixing yellow gold with copper and silver to achieve a soft, pink hue. Choose between 9K or 18K gold options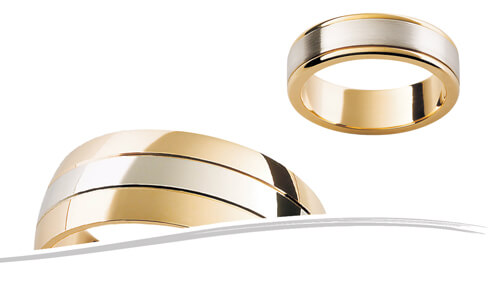 Two-Tone
A combination of both white gold and yellow gold will give your ring both a classic and contemporary look. It can be achieved on rings that have clear divisions or grooves. The more popular choice is to have white gold in the middle section: simply choose Yellow|White|Yellow from the drop-down. Alternatively, if you want the colours reversed, choose White|Yellow|White.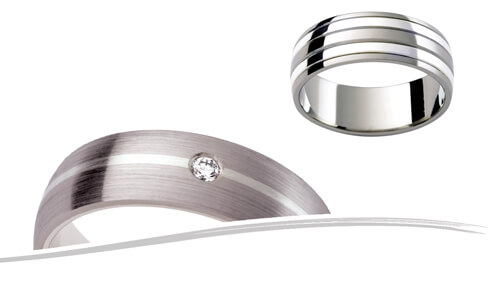 9/18K Combinations
For a really different look, choose a ring from this collection. It's a combination of 9K white gold and 18K white gold in the one ring. No rhodium polish results in a very brushed or matte look. It's important to get the right ring size, as these rings cannot be resized in the future.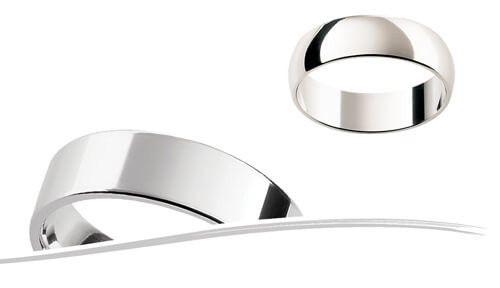 Platinum
Platinum is hypoallergenic making it an excellent choice for grooms with sensitive skin.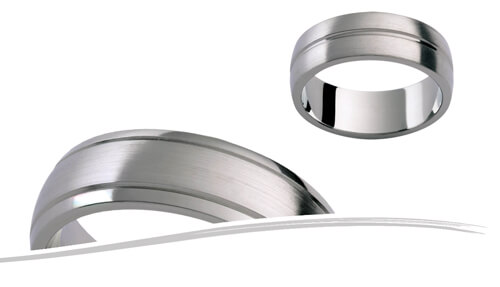 Titanium
Titanium is an incredibly tough and lightweight metal making it a popular and practical choice for men's wedding or dress rings.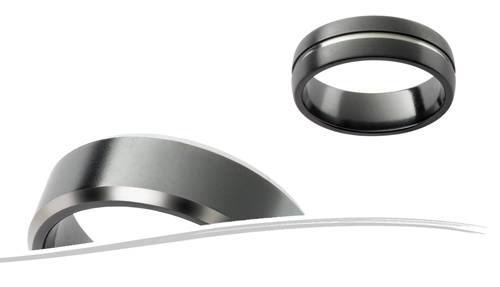 Zirconium
Zirconium is another incredibly durable and lightweight metal. It is hypoallergenic, and more scratch-resistant than gold, making it a popular and practical choice for men's wedding or dress rings.
5. Choose A Finish
Your favorite wedding ring design can be customized with a finish of your choice.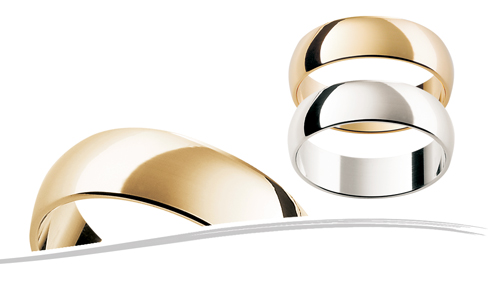 Polished
A highly polished wedding ring is a classic choice. Its mirrored finish makes it an elegant and understated addition to every look.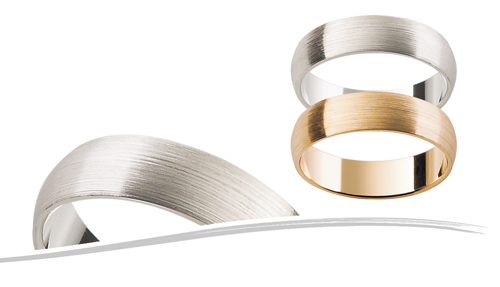 Emery
The brushed look, called Emery, is practical for everyday wear and with a modern touch. Looks especially good in grooved rings that have a polished edge.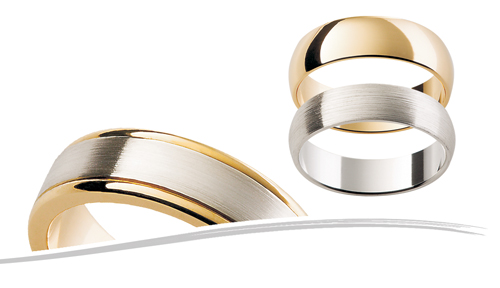 Polished|Emery|Polished
A combination of the two most popular finishes: Polished on the edges and Emery in the centre – gives a stylish twist that's both contemporary and timeless. Most of the rings that have grooves can be finished off this way, or you can reverse it with Emery on the rails and a polished centre, by simply choosing the finish Emery|Polished|Emery.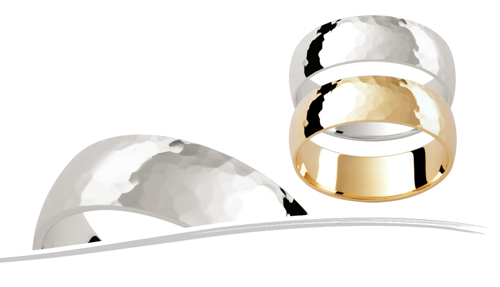 Hammer
A unique finish that appears your ring has been hammered! The metal catches the light nicely with the high polished, hammered finish. Enquire if your chosen ring can have this finish.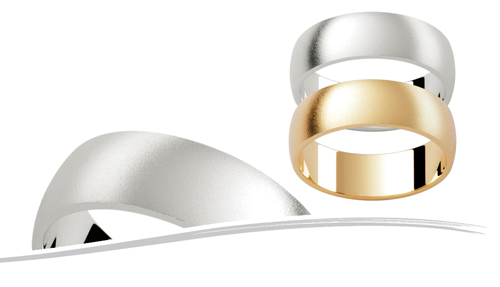 Sandblast
The matte look of the sandblast finish gives a masculine, subtle feel to your ring.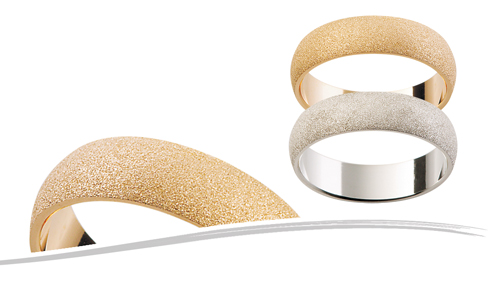 Diamond Wheel
Give your ring a splash of glimmer with the 'Diamond Wheel' finish. Enquire if your chosen ring can have this look.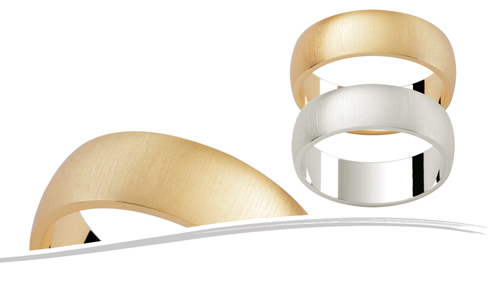 ScotchBright 90
A unique fine brushed finish that runs vertically, producing a subtle and refined texture. Works well on plain bands or selected patterned bands.
6. Choose Your Price 
Once you've selected the above requirements, Moi Moi's instant pricing calculator will display the prices of each metal for you. Simply choose which price suits, add to cart and order your dream wedding ring.
Moi Moi's Lowest Price Guarantee on all men's wedding rings, ensures you can also shop with confidence knowing you will receive the best value. If you find a lower price elsewhere, we will beat it by 5%.
WHY CHOOSE MOI MOI'S MENS RINGS?