Russian Wedding Rings
Russian wedding rings (also known as Trinity, Trilogy or Puzzle rings) are a style of three intertwining rings to create one ring, and represent holy matrimony. It is mostly worn on the ladies right hand.
Traditionally, the three rings are different coloured gold's of yellow, rose and white gold.
All three bands together which represent the Holy Trinity: the Father, Son and Holy Spirit.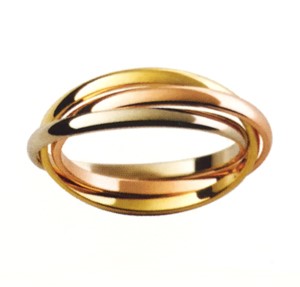 There are always the modern versions of Russian Ring as with many traditional rings. It's quite common to now have stones in the bands or engraving. They don't need to be three different gold. You can also have just two bands, or four, five, six or more bands intertwine. Some people opt for all white, or white and yellow bands only.
We have recently had two customers do their own take on the Russian wedding ring design for dress rings, and as a requested we custom made them with beautiful results:
Our first client added diamonds and engraving to her bands. She had found the rolling of the intertwining rings uncomfortable to wear, and so she and wanted the rings separate to wear as a stack. So we made her three individual rings.

Image Source: Moi Moi Fine Jewellery
Our second client wanted one ring, joined at the base and have the three bands separated at the side of the ring to be intertwining at the top. She added pink sapphires and Moissanite to each 'ring'.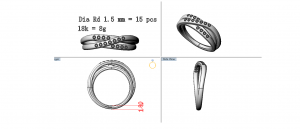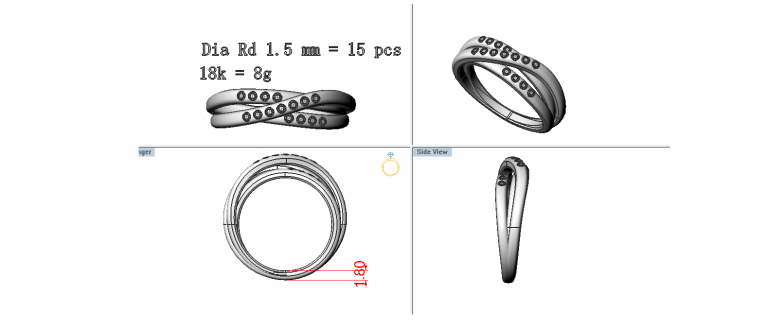 CAD drawing of the custom made ring
Image Source: Moi Moi Fine Jewellery
Final results of the custom made ring
Image Source: Moi Moi Fine Jewellery
Traditional Russian wedders, or modern take both look great. What's your pick?
– Alana