Engagement Ring Trends of 2017 – Bigger Really Is Better
Engagement season is official here! January is the official kick off month of engagement season, and with all the options out there for brides and future grooms to choose from, it's a tough to narrow it down.
The last hundred years has proven just how frequently jewelry trends ebb and flow. From vintage minimalistic rings to extravagant multi-colored gemstone art pieces, there's been much for brides and grooms to choose from. As with any other year, 2017 brings with it its own unique assortment of ring styles, so let's take a closer look to see what's in store.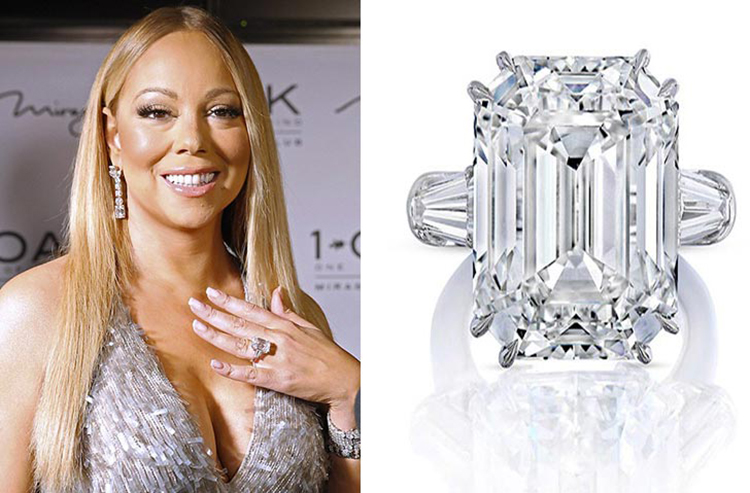 Trend No. 1—Bigger Really is Better!
One of the biggest trends hitting the engagement jewelry market is Bigger is Better! Large gemstones are making a serious comeback in 2017, and luckily we at Moi Moi have all the big rings you could want or need.
Take our stunning Aria Moissanite Ring, for example. She's an oversized round brilliant single halo cut with a split band and Moissanite stone, weighing in at some 3.64ct. A dazzling array of gorgeous, smaller brilliant Moissanite stones encircle her. The band shimmers like glitter, offsetting the stunning center stone. The ring's total carat weight is 4.23. The band is available in 18K white, yellow or rose gold. We fully expect his piece to be one of our more popular rings in 2017.

Elegant and Colorful
Bold rocks with daring colors are leading the way in 2017. These elegant yet, original, rings are coming back with vengeance. We expect to see more brides turning to our shop to find a ring that flaunts a stunning center stone complimented with smaller, but equally as beautiful stones.
Big rings were particularly popular in the 1900s, but like every other style, it's coming back around. In most cases, oversized rings are only accessible to celebrities or the ultra-wealthy. For example, Mariah Carey, Jessica Biel and the like, were spotted touting their glorious massive center stone rings in 2016. This  a trend we expect to continue this year. What will be different, however, is the number of brides looking for affordably priced oversized rings.
At Moi Moi, we offer several large sized rings. From our Aria Moissanite ring to our Eden cut, brides will find our collection stocked with gorgeous and large engagement rings to choose from. Flaunt your personal style and go big in 2017, with this hard to ignore trend.
Next post, we'll take a look at what else is in store for the coming new year.