Kim Kardashian's Engagement Ring
Kim Kardashian may have hit the dizzying heights of fame because of her television show, but her fashion sense has kept her current. It is not just her career that people are trying to keep up with, her love life has also been of interest over the last decade.
(L): Kim Kardashian for her new fragrance campaign. (R): At a photo shoot for her make-up line. Source: Instagram @KimKardashian
Her Engagement to Kayne West and THE Ring
Everyone loves a fairytale, and although this one didn't have a happy ending and they've since broken up, the love story between Kim Kardashian and Kanye West certainly has aspects of the love story fantasy. By now, it is a well-known fact that Kanye held a secret flame for several years before finally getting his yes.
They first met in 2003. At that point, they were both dating other people, but they struck up a close friendship that persisted. West appeared on Kim's hit show in 2010 and set tongues wagging with their undeniable chemistry, but they did not announce their relationship until 2012. One year later, they announced they were expecting a child, and one year after that Kanye took the next step. He proposed in front of her entire family in AT&T Stadium.

Kim Kardashian and Kayne West's Engagement; Close up of the engagement ring
Source: Twitter and photo by Ethan Miller/Getty Images
Kim's Ring and Cushion Cut Engagement Rings
The ring certainly made a statement. At a whopping 15 carats, its value is estimated at over $8 million! The ring is set with a D colour and a flawless centre stone. Truly, a perfect cushion-cut specimen. The large diamond is set in a prong set band, this is a type of setting where the shank is lined with a series of accent stones. The setting itself makes it look as though the large gem is floating. 
If you have been searching for inspiration, then as far as engagement rings go, Kim's ring is an excellent choice. If $4.5 million is beyond your budget, there are better choices in terms of value and quality for the centre stones, such as SUPERNOVA Moissanite or a lab grown diamond. Moissanite is a near-colourless gemstone composed of silicon carbide. The brilliance surpasses that of a diamond but it is much more affordable. With that in mind, we have selected several rings in our latest range of large stone collections.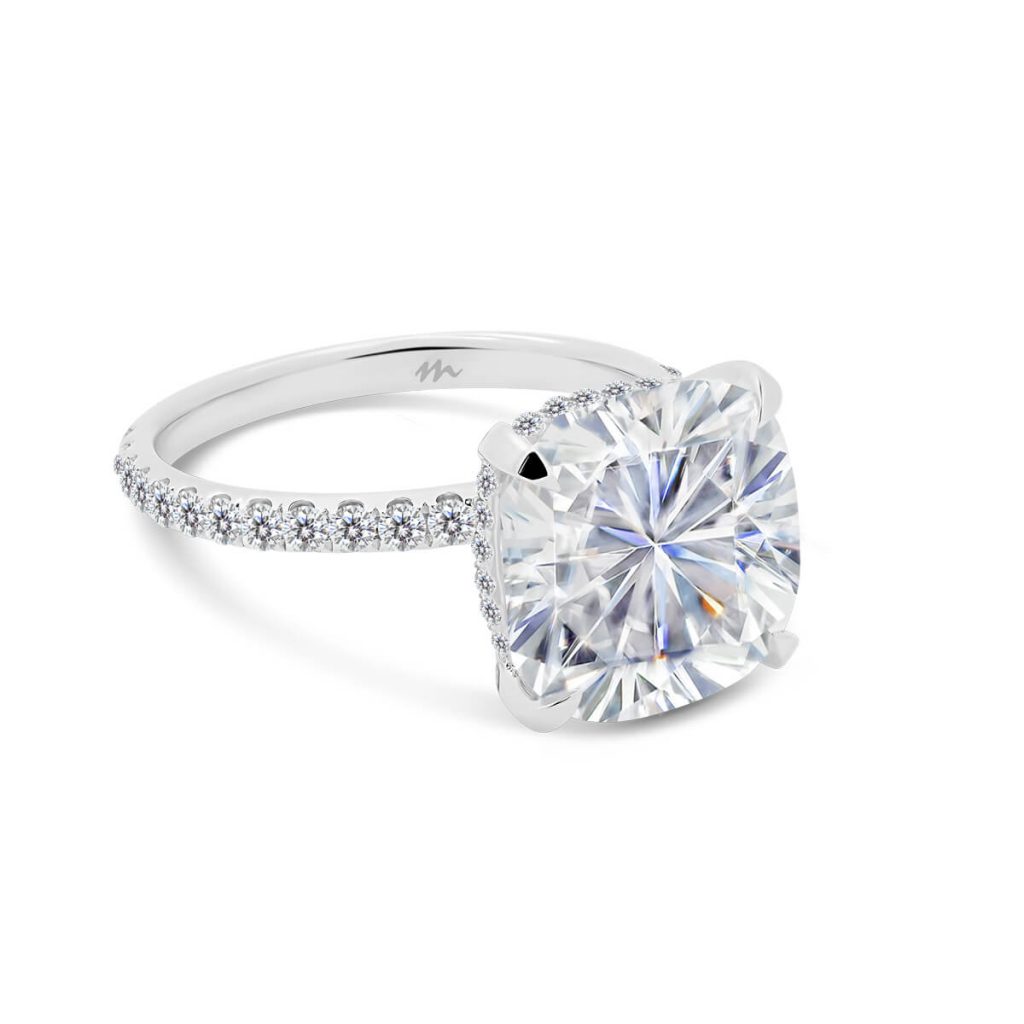 If you are looking for a refined cushion cut Moissanite stone, then the 'Sienna' ring is perfect. It features perfectly aligned facets, and the centre stone is over six carats. It is nestled in four delicate prongs, with a micro-pave band under-rail. You will notice sparkling round accents around three quarts of the slender band. This ring is part of our new Luxe Collection.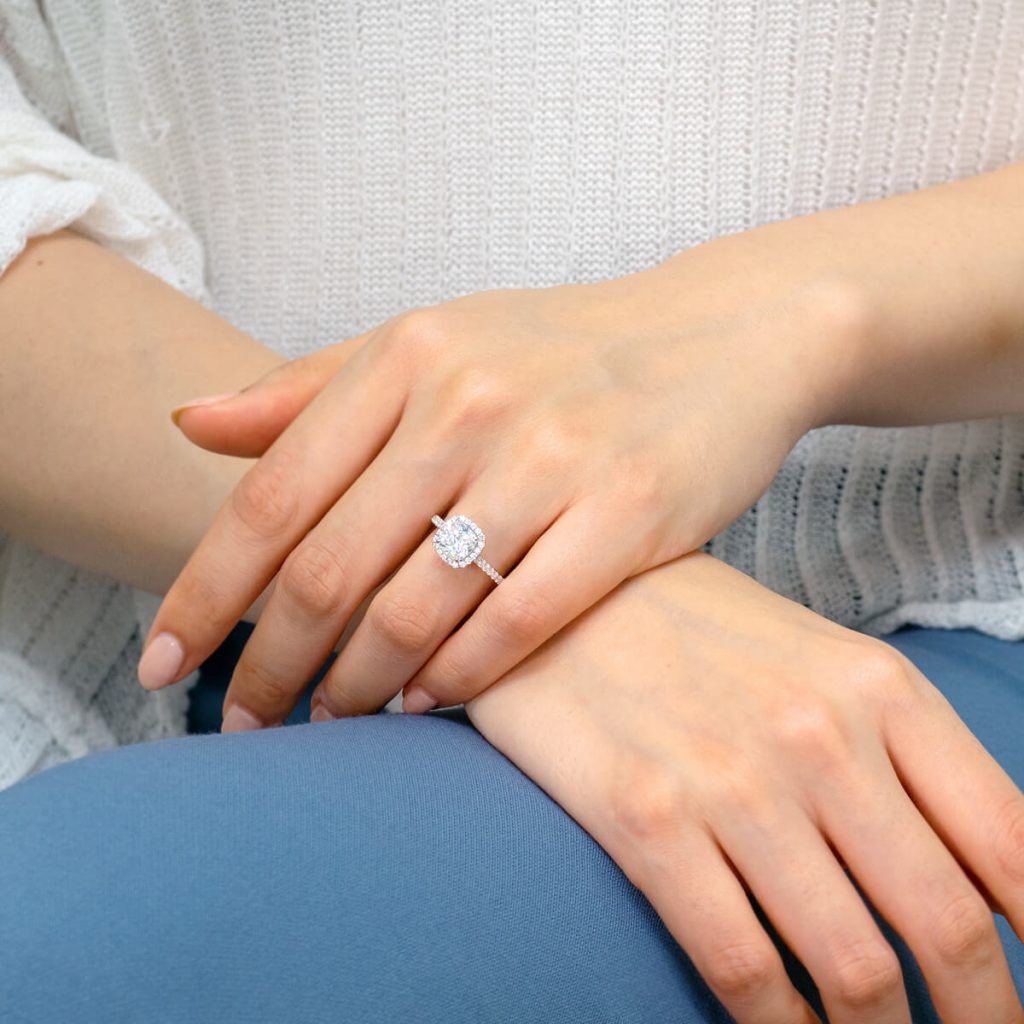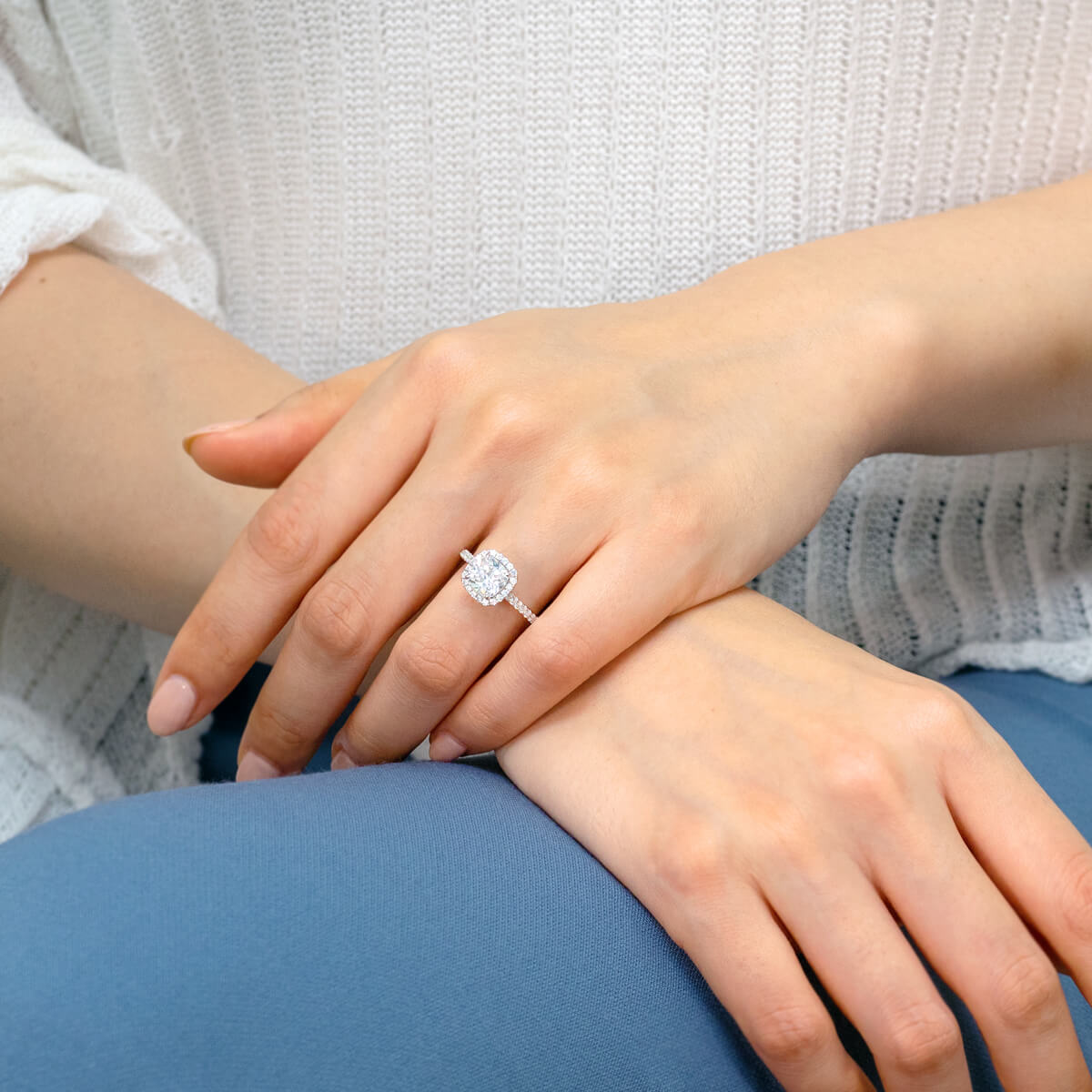 If you want a masterfully crafted Moissanite ring sure to wow everyone then 'May' is an excellent choice. This elegant number features a centre stone in a prong-set halo with a matching thin band. The bridge and gallery have added gemstones to take the ring to the next level. 'May' is available in 18K white gold, 18K yellow gold, 18K rose gold and platinum. You can choose from 2.06 carats, starting at $4,180, or 2.46 carats, from $4,500.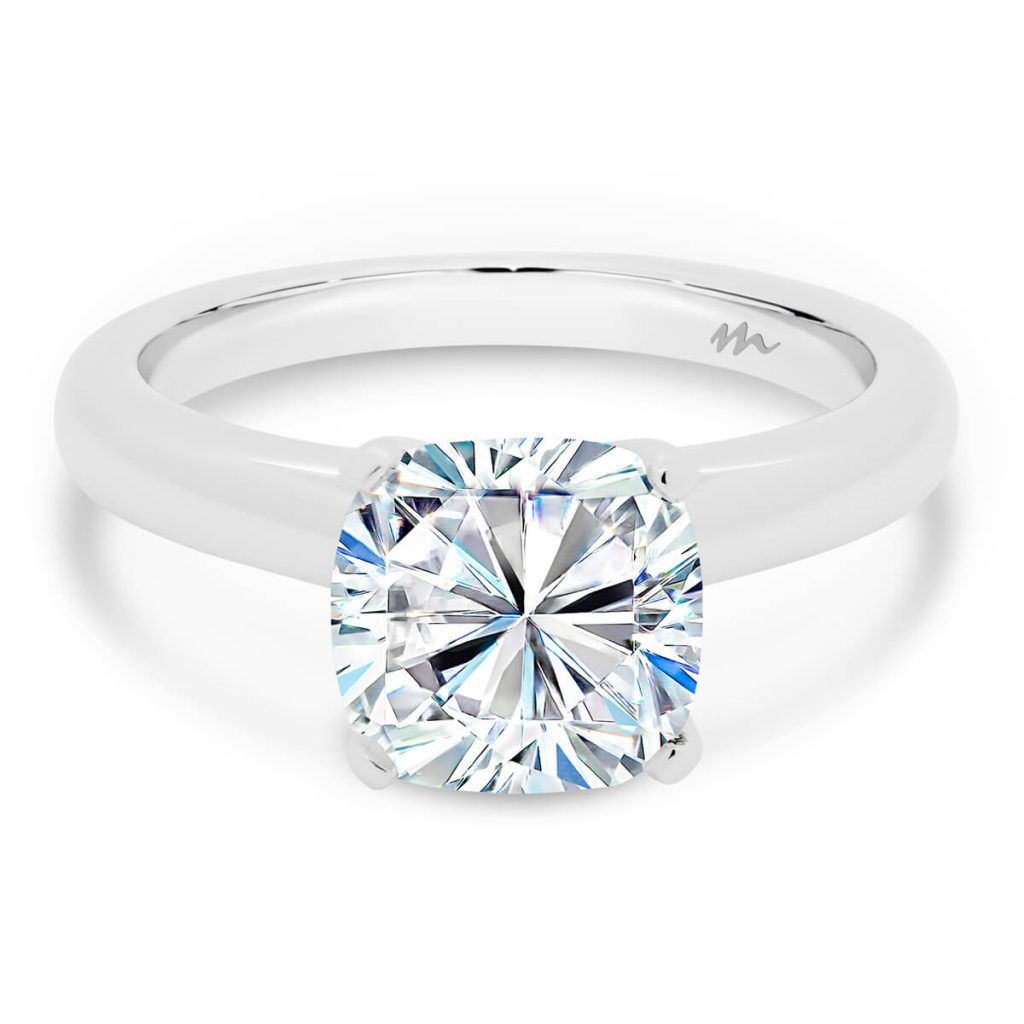 The 'Fiona Cushion', is a solitaire design with 4 straight claws. It is an excellent choice if you would like a ring that accentuates the shape of the cushion-cut Moissanite gem. It is classic, feminine, and ideal for anyone who loves simplicity in design with added brilliance to the overall look. The 'Fiona Cushion' is available in 18K white gold, 18K gold, 18K white gold, as well as platinum. The 2.06-carat ring is available starting at $3,490, while the 4.28-carat ring is available starting at $4,840.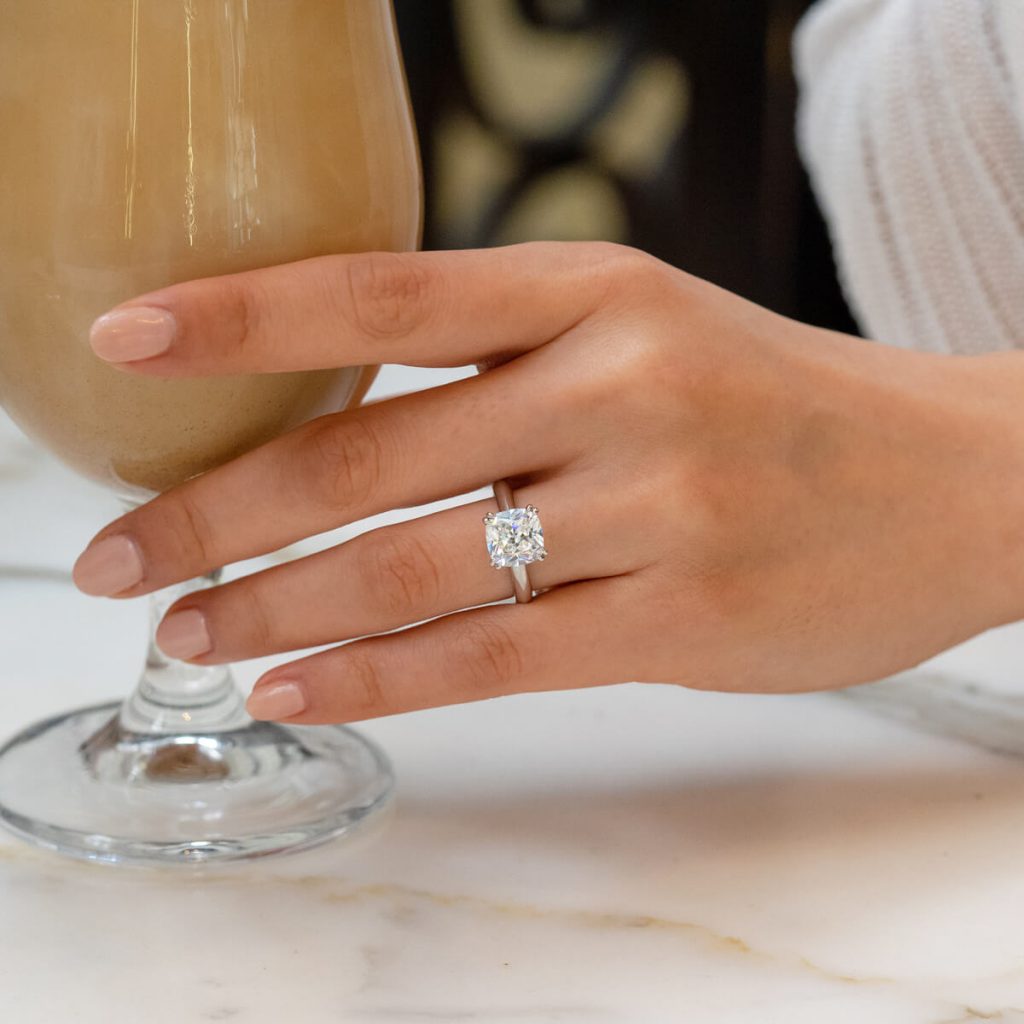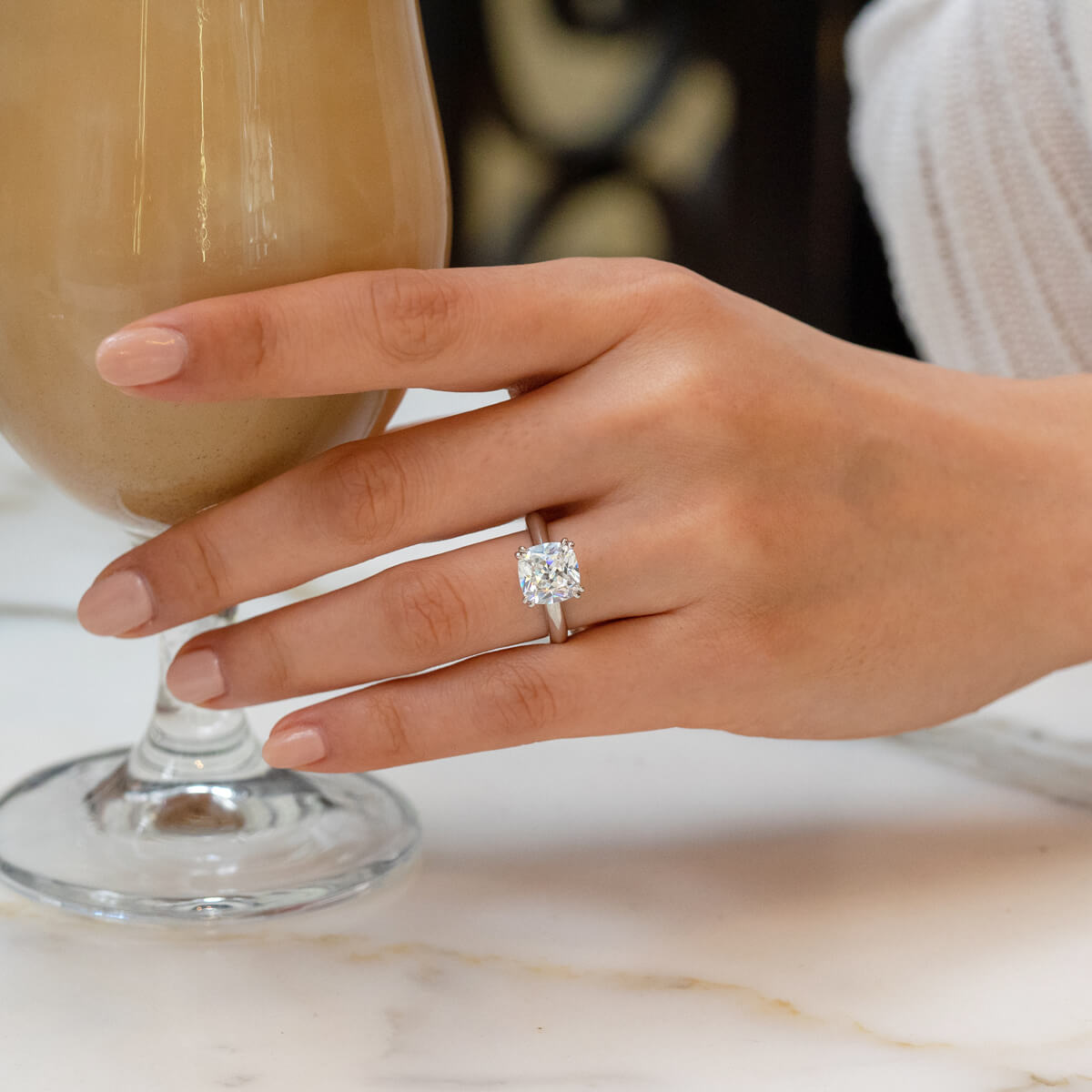 The 'Monica' ring is a solitaire design that embodies sophistication and simplicity. It is accentuated by double pear-shaped prongs, with a cushion-cut Moissanite stone at its centre. It sparkles like no other ring. 'Monica' is available in 18K white gold, 18K gold, 18K rose gold and platinum. The 2.91-carat ring is available starting at $4,000, with the 4.28-carat ring starting at $4,630.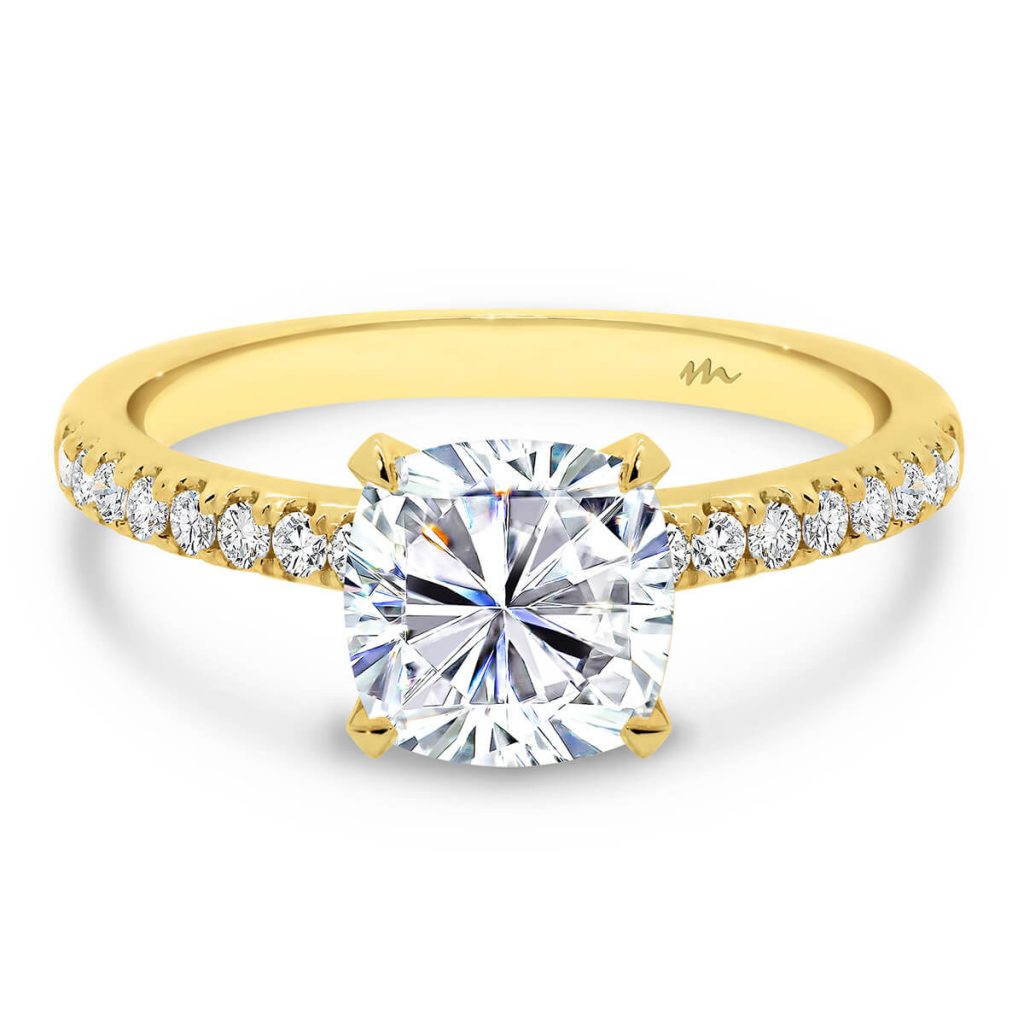 Victoria is a dazzling ring. It would make a wonderful engagement ring or even a sensational cocktail ring. The 'Victoria Cushion' is available in centre sizes ranging from 1.39 carats to 2.06 carats, and can also be custom-made to suit larger centre stones. It is available in 18K white gold, 18K yellow gold, 18K rose gold, and platinum with a starting price point of $2,440. The Victoria family has four shapes, and all of them were designed with modern elegance in mind. If you like the style of Victoria but aren't sure about the cushion-cut, why not take a look at Victoria Round, Victoria Oval, or Victoria Emerald?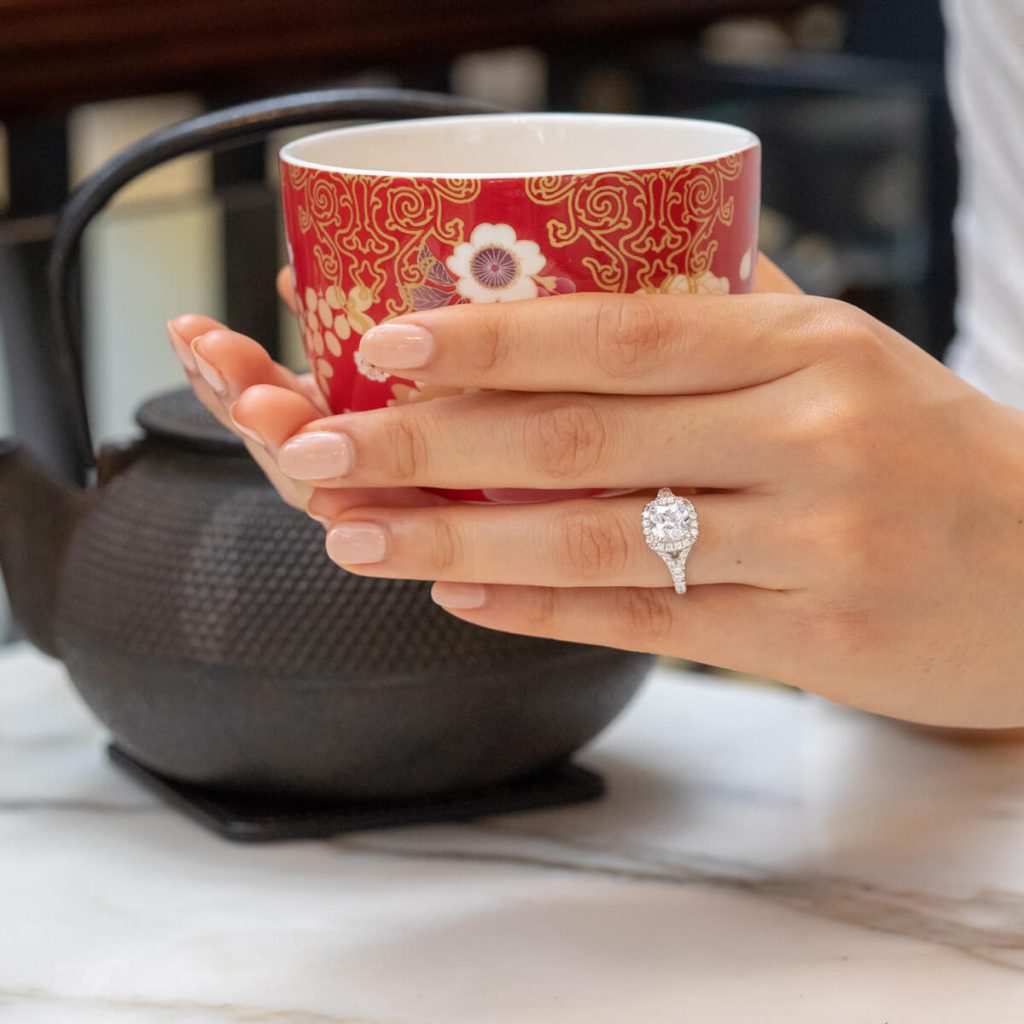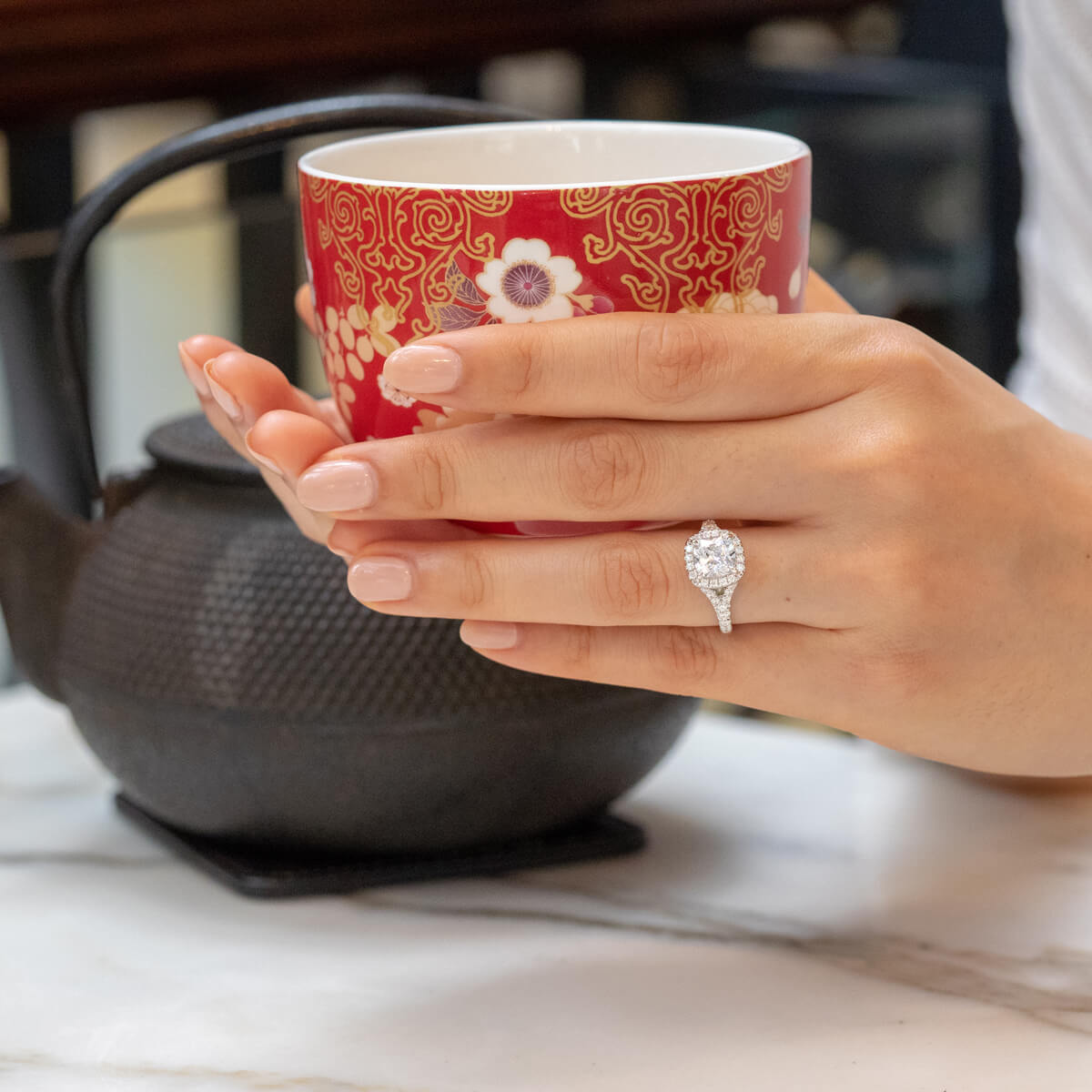 The 'Celine' is a romantic ring. It is the perfect choice for anyone with a proposal in mind. The stone is set in a dazzling prong-set halo of rounded accents. The split shank is encrusted to create a truly eye-catching piece of jewellery. 'Celine' is available in two centre sizes, both available in 18K white gold, 18K gold, 18K rose gold and platinum. The 'Celine' ring in 2.06 carats starts at $4,030, with the 3 carats starting at $4,320.
Visit us on Facebook and Instagram for more Cushion centre stone engagement ring designs.
Watch this space for more celebrity engagement ring inspirations including JLo, Hailey Bieber and Ariana Grande!