Hailey Baldwin Bieber
Model Hailey Bieber's distinct fashion style, recently launching her own skin care line, and artistic talent has grabbed the world's attention. Her engagement and marriage to Justin Bieber featured in many magazines, and so this week, our celebrity spotlight is Hailey Bieber and her Oval cut engagement ring.
(L): Hailey Bieber's was trained to be a professional ballet dancer through her teenage years. (R): Hailey Bieber's career as a model. Source: Instagram @HaileyBieber
Her Engagement to Justin Bieber and THE Ring
After many years of a love triangle with Selena Gomez, Justin Bieber proposed to Hailey on a beautiful beach. Not only was the relationship followed by millions of fans, her beautiful (and very eye-catching!) engagement ring had become an instant search over the Internet.


Hailey Bieber wearing her Oval cut engagement ring. Source: Instagram @HaileyBieber
Oval-shaped Engagement Rings
What do you think of the ring?
Hailey Bieber's engagement ring size is whopping 6 carats! The absolute stunning design has an elongate look that creates an elegant look on the hand. Set with a plain polished band, it shows off the minimalistic beauty but surely makes a statement!
Get Hailey's look with an oval cut statement ring from Moi Moi: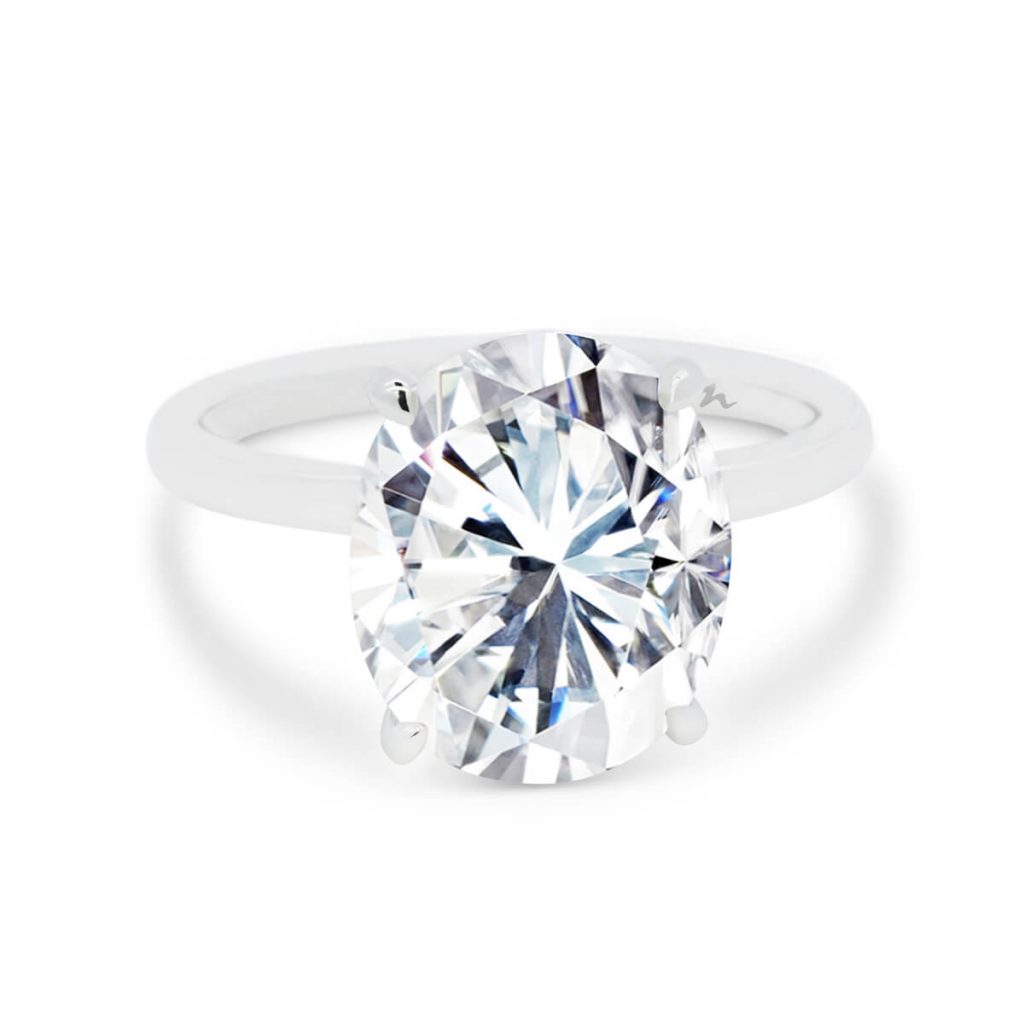 The 'Artemis' ring is our brand new design in the Moi Moi Luxe Collection. You will surely command attention wearing this stunner! The solitaire ring is RRP $5,630 in 18K Gold (available in White, Yellow or Rose gold) and RRP $5,690 in Platinum.
Our new "Aurora" ring, a breath-taking glamorous ring – a 7 carats Oval-shaped centre stone with a hidden halo on a delicate micro-pave band! The "Aurora" ring is available in 18K White/Yellow/Rose Gold or Platinum and is valued at $7,130-$7,190 inc GST.
Followed by the stunning 'Aurora' Ring, another ring that tops the chart is the "Victoria" ring with an oval centre stone. The design shares a similar Oval centre stone and accent stone in the bans look. However, the 'Victoria Oval' ring has a unique 6 claws setting – unique compared to most 4-claw setting for Oval shape centre stones and with additional security of the setting. 
The Victoria rings are an epitome of contemporary elegance. The 'Victoria Oval' has smaller centre stones than the Aurora ring design and has the same feature to elongate the fingers, exuding in grace and style.
Visit us on Facebook and Instagram for more Oval centre stone engagement ring designs.
Watch the space for more celebrity engagement ring inspirations including Jennifer Lopez, Kim Kardashian and Ariana Grande!