Moi Moi's Created Colour Stones – Blue Sapphires, Rubies and Emeralds
With the holidays just around the corner, wouldn't it be great to welcome some sparkling items that will add more colour to the year that has been? 
Moi Moi recently launched its lab-grown colour gems inspired by the festive spirit of the holidays. Nothing like beautiful hues of blues, greens and reds to unleash the Christmas spirit! If you're looking for something to pamper and reward yourself with after the long year we have all had, then you're in the right place.
Here's a look at the collection:
Acacia Blue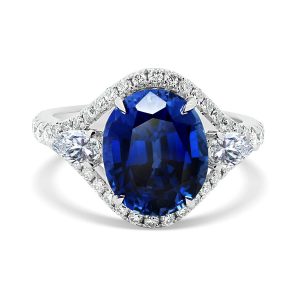 A ring with a five-carat oval-cut sapphire encrusted in a halo that hugs the ring with glowing radiance, creating a sleek silhouette. You can match this piece with any holiday attire, may it be casual or formal. The perfect gift you can splurge on for yourself!
Aster Round Blue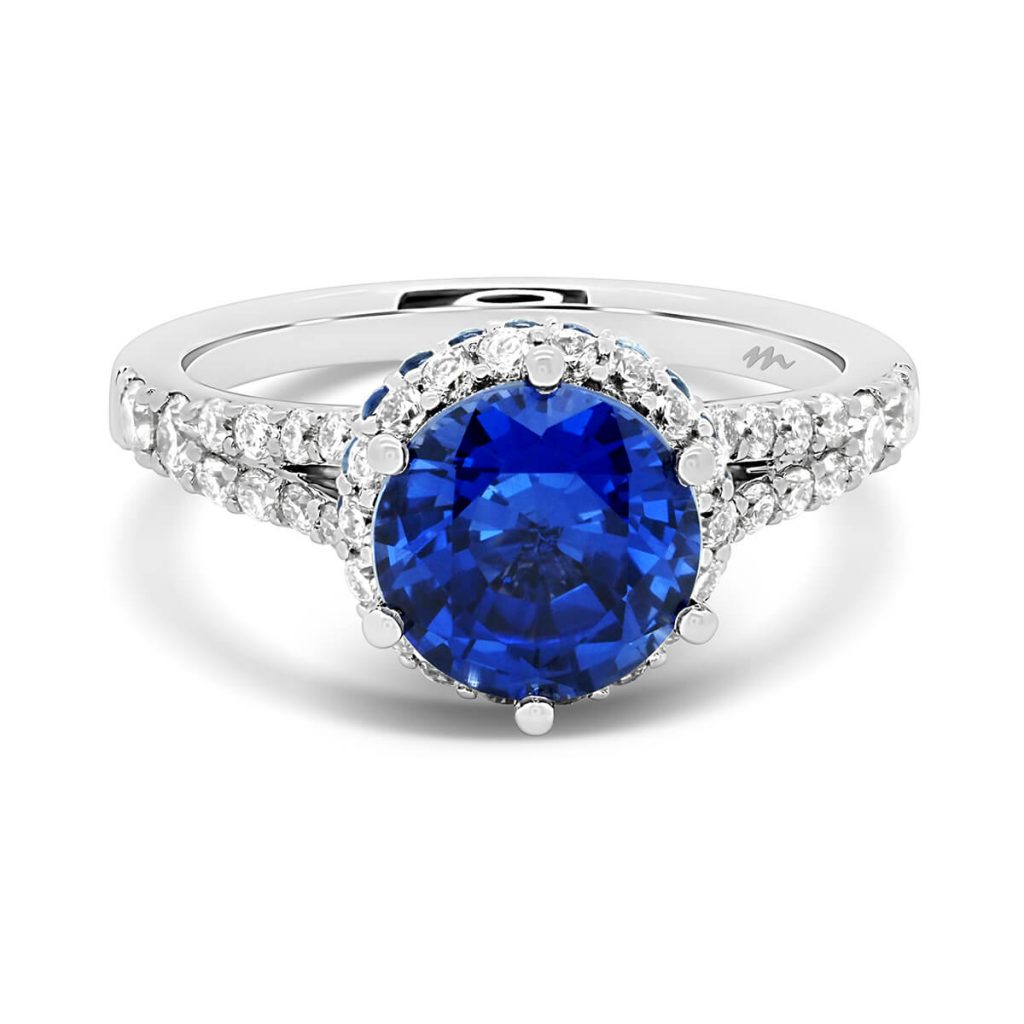 There's beauty in blue! Step out in style with the 'Aster Round Blue', a design elevated from the classic halo look. A brilliant blue gem takes focus, underscored by a row of white stones, centred on an encrusted split band.
Bluebell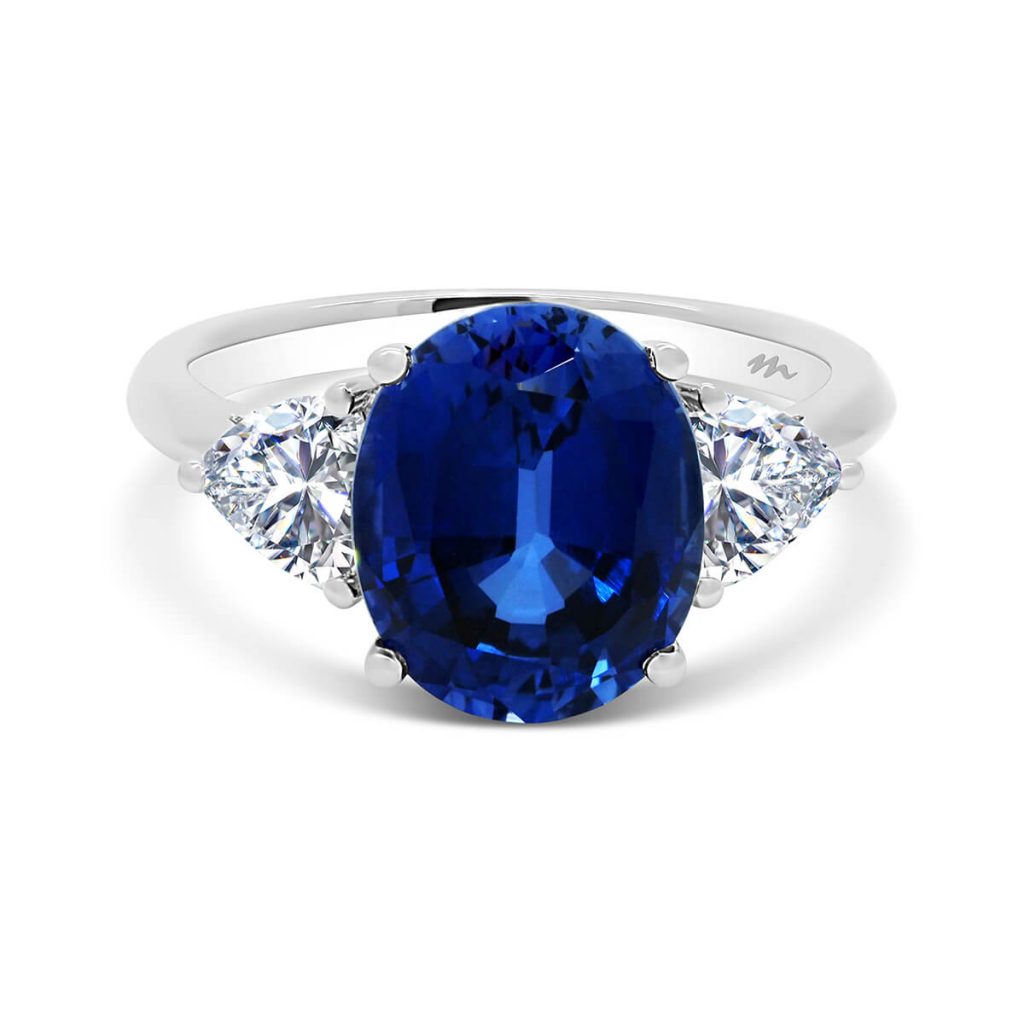 A classic trilogy that features a captivating lab-grown sapphire in an elongated oval shape with two trillion-cut side stone. This timeless cut can compliment any occasion or event and immediately takes your look from day to night.
Cassia Red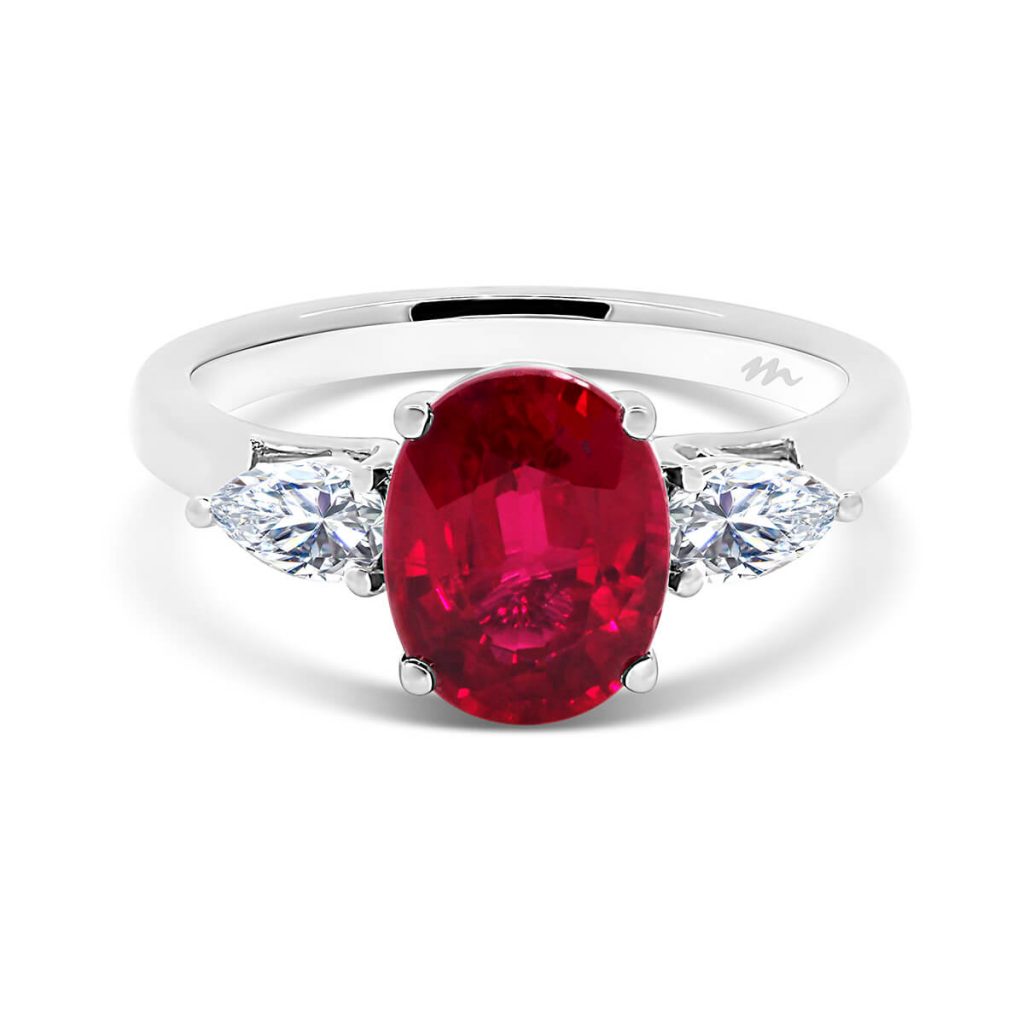 Stay modern and sophisticated with this trilogy ring! The pear-shaped side stones add a touch of delicacy with its elongated shape. The brilliant pop of red in the center will surely catch everyone's attention in gatherings.
Cedar Cushion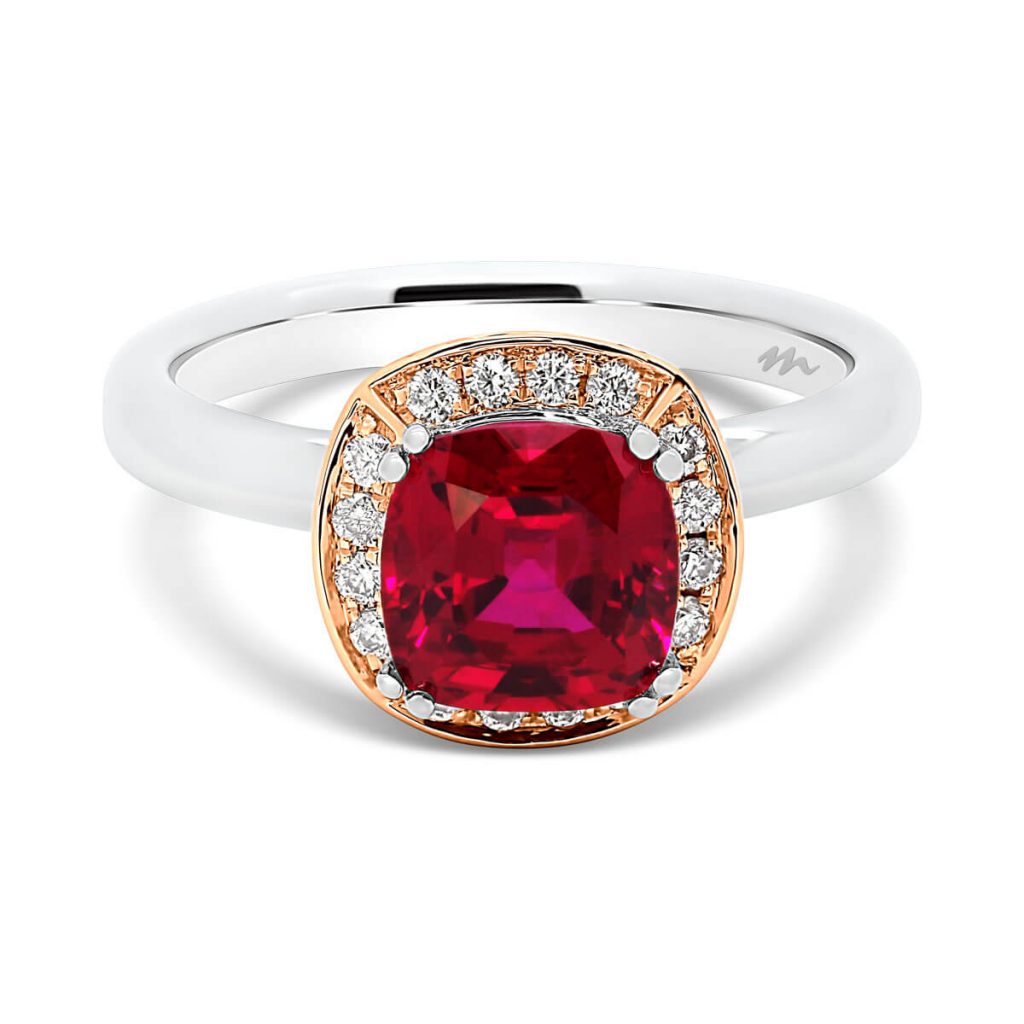 This splendid design featuring a two-tone halo cushion setting above a high-polished plain band of precious metal will be a wonderful addition to your holiday look. The simplicity is made elegant by the striking ruby accent stones.
Clover Oval Blue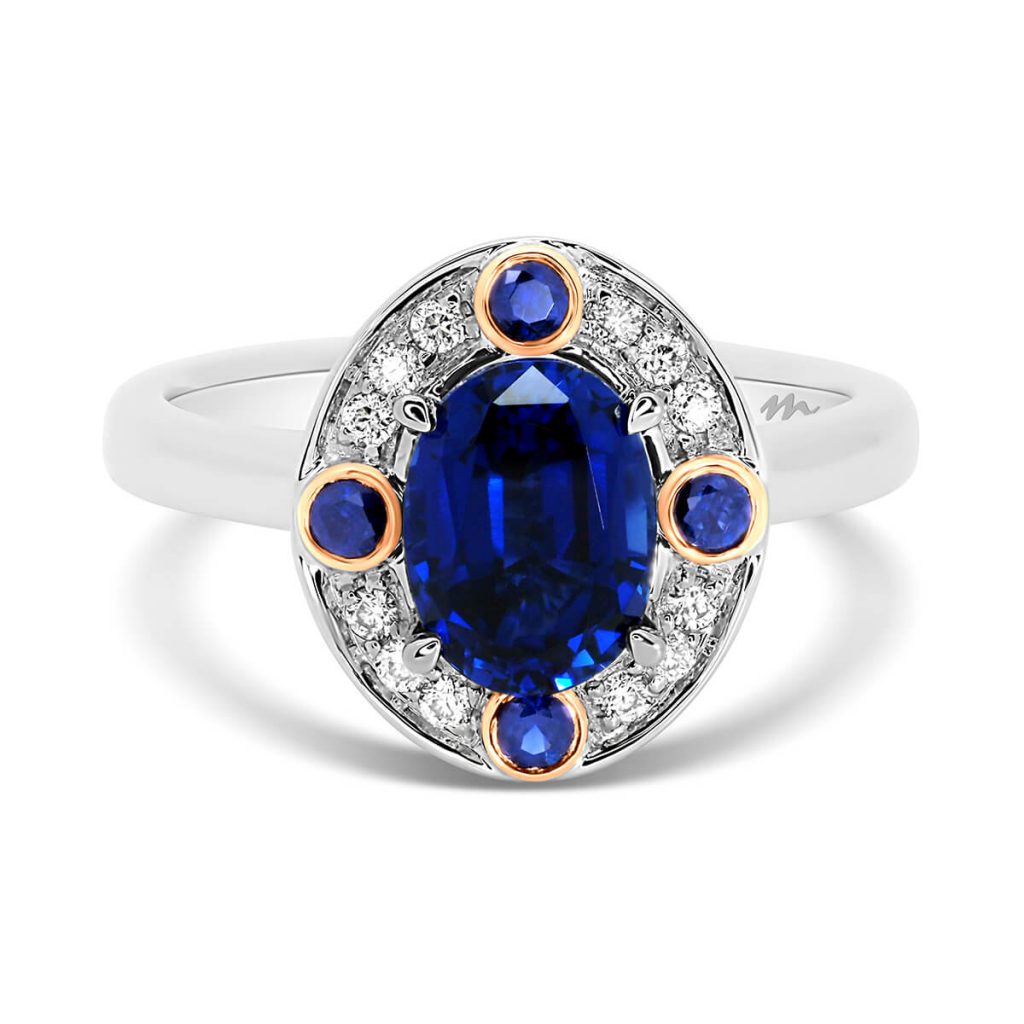 Look stunningly regal with this ring fit for a queen! The 'Clover Oval Blue' has an oval cut lab-grown sapphire that sits within an encrusted halo, further decorated by symmetrically-placed sapphires.
Eugenia Red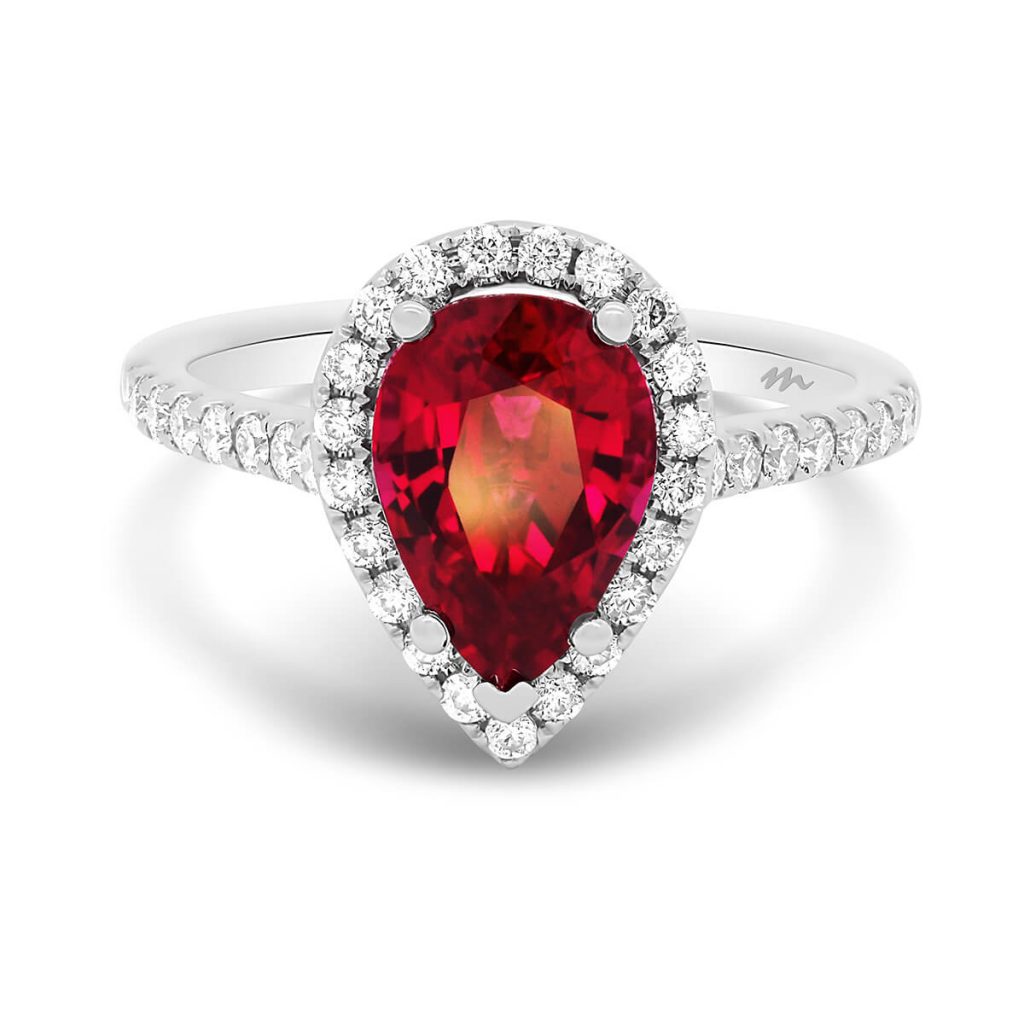 This piece features a stunning lab-grown pear-cut ruby set amongst a sparkling halo and band, decorated with a detailed stone-set bridge from the side view. Perfect for a classic, timeless look.
Heather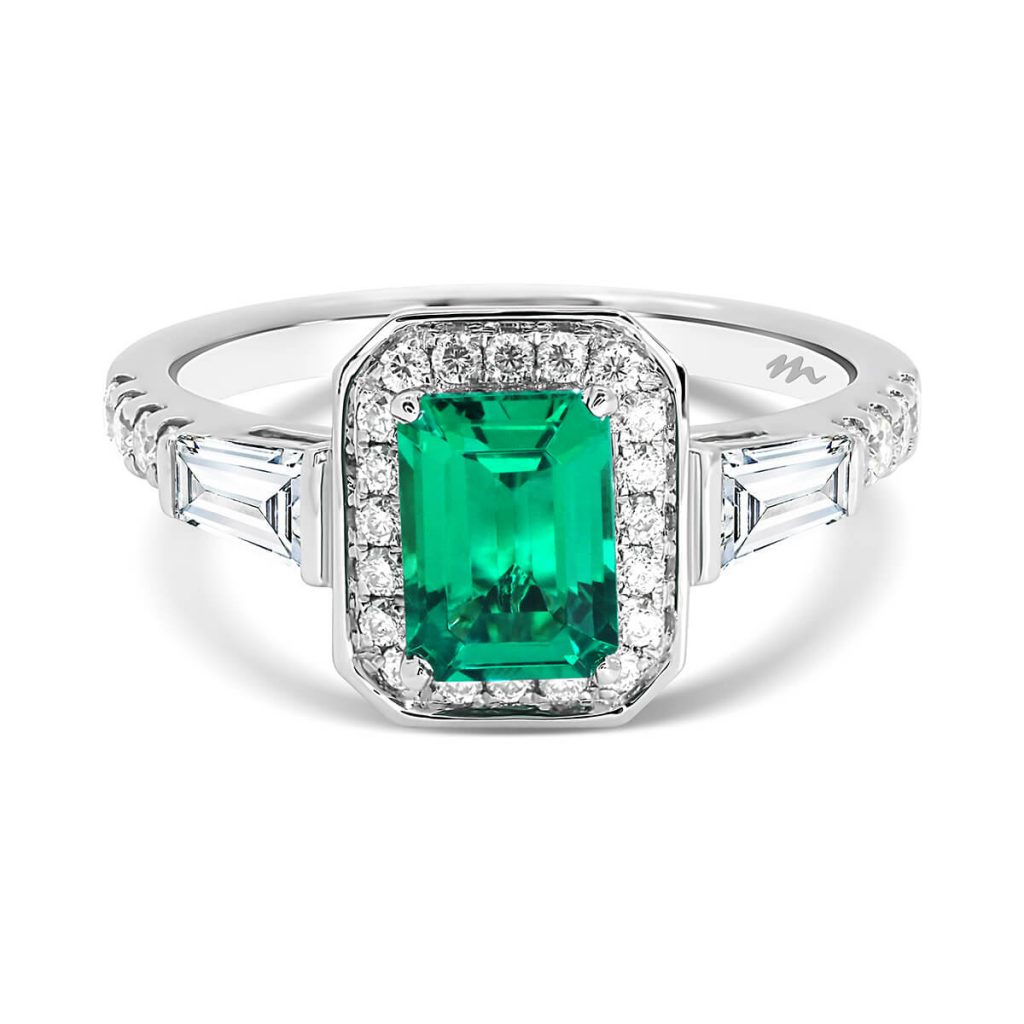 This elegantly composed ring showcases a sophisticated crisp emerald centre stone and is accentuated in a cut-corner halo setting with delicate tapered baguettes on either side continuing into a prong set band. An ideal piece for ever-day use; practical, simple yet still elegant.
Ivy Red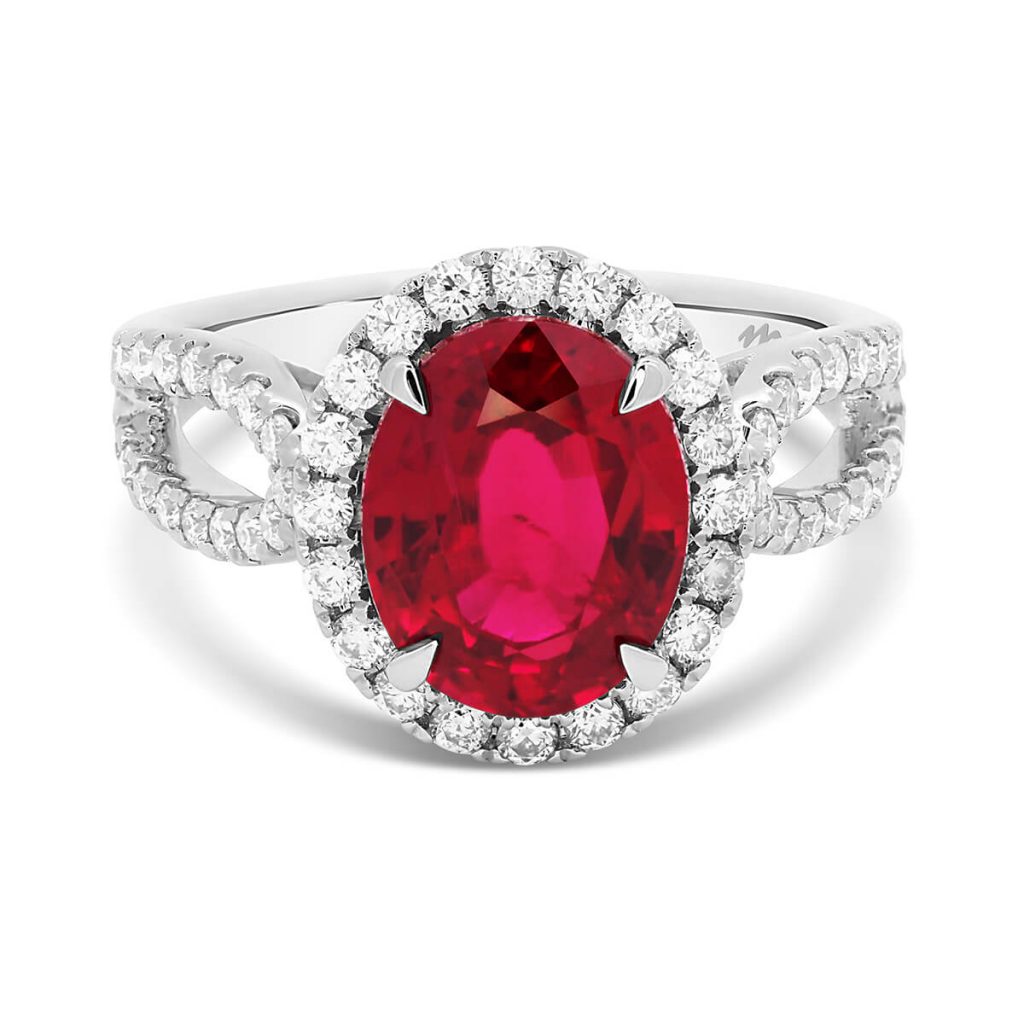 Celebrate vintage glamour and modern sophistication with this ring! The oval cut centre stone sits within a sparkling halo with a beautiful filigree basket, and is completed with sparkling SUPERNOVA Moissanites along the sides.
Lavender Blue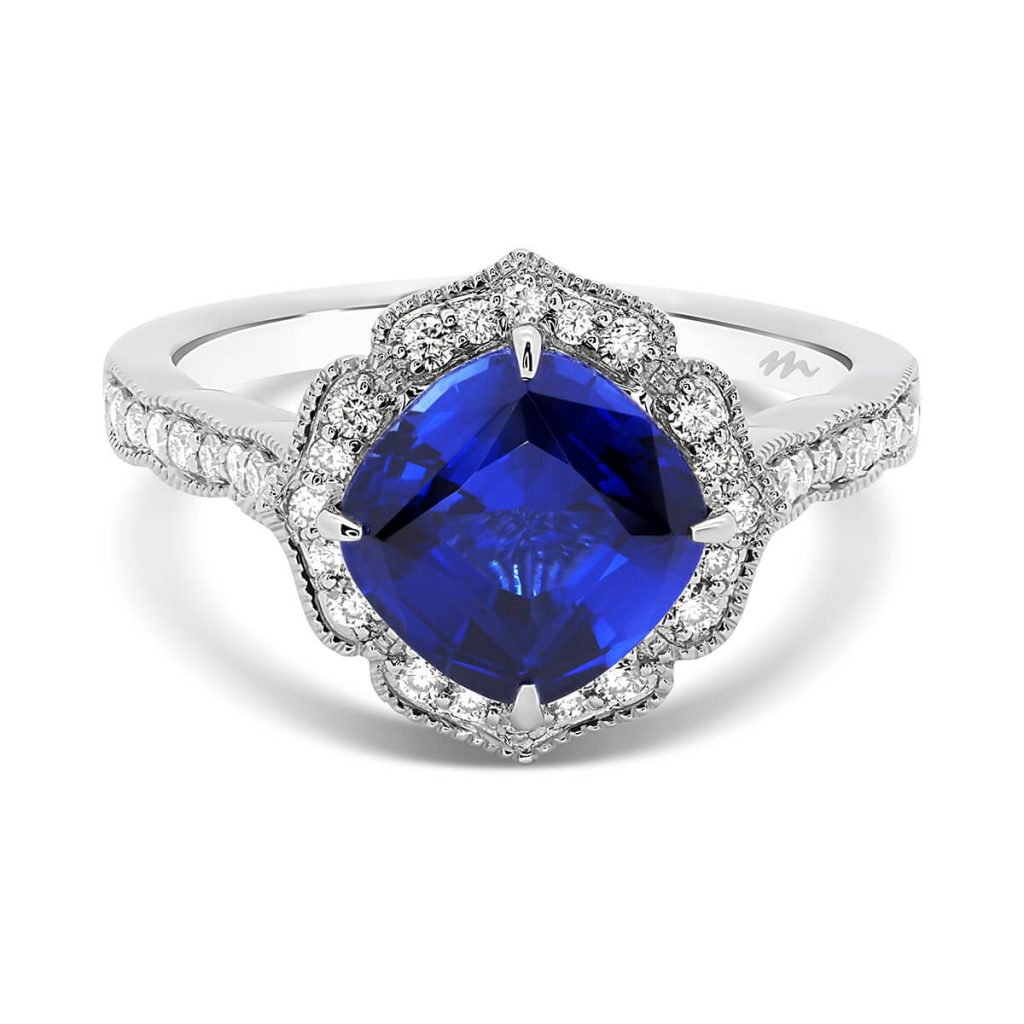 This gorgeous ring proves that vintage undertones and a sapphire stone are a match made in heaven. The cushion-cut sapphire is framed in a petal-shaped halo decorated with sparkling SUPERNOVA Moissanite stones.
Posey Cushion Red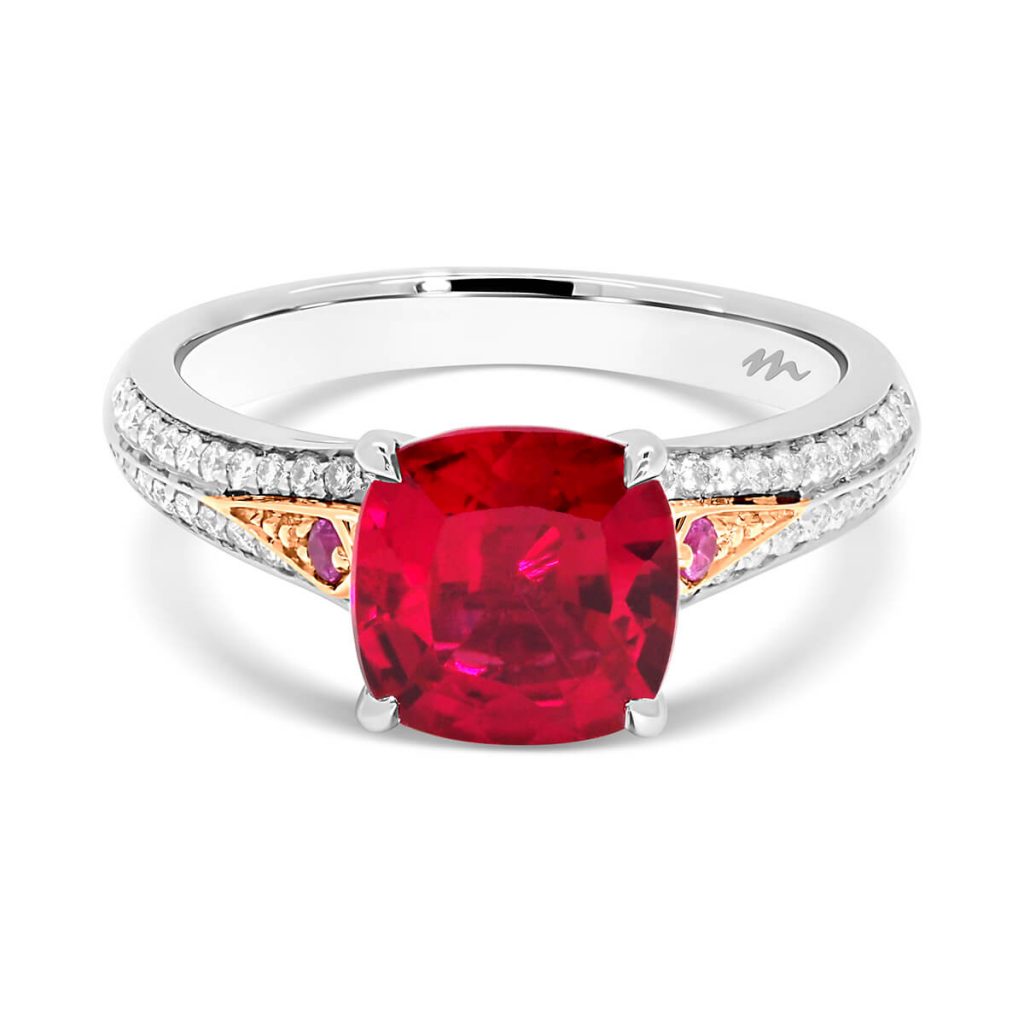 With features that are architecturally perfect, the 'Posey Cushion Red' is a total eye-catcher. You'll be enamoured by the cushion-cut Ruby centre that sits delicately on a pave knife-edge band, decorated in two-tone gold with a Ruby accent stone on either side. 
Rosemary Oval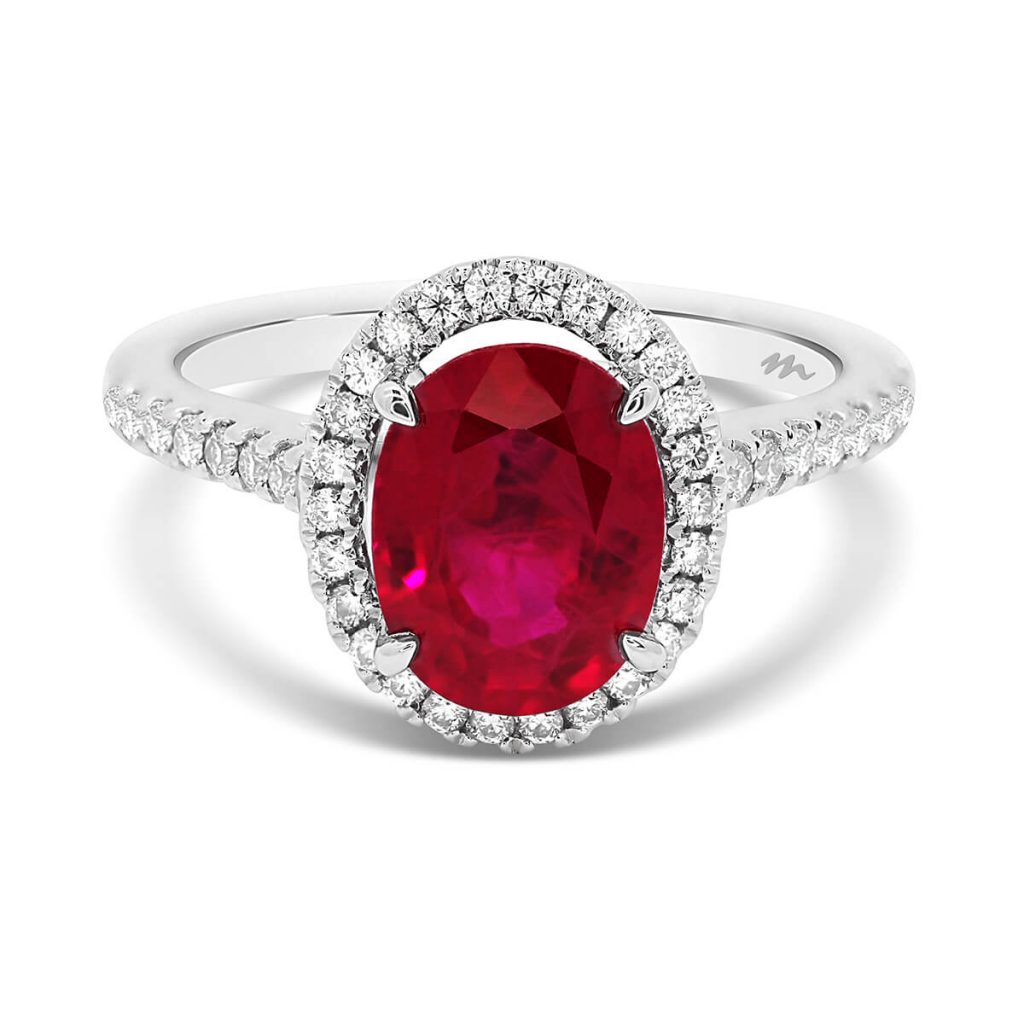 You'll surely be dressed to the nines with a sparkling stunner like the 'Rosemary Oval'. The alluring oval sapphire centre stone matched with a halo of sparkling SUPERNOVA Moissanite, this design reflects old-world glamour. 
Rosemary Pear
Glamour runs high with the 'Rosemary Pear', an elongated pear-shape centrestone encrusted in a halo of sparkling SUPERNOVA Moissanite stones. It's a fashion maven must-have, indeed! 
Violet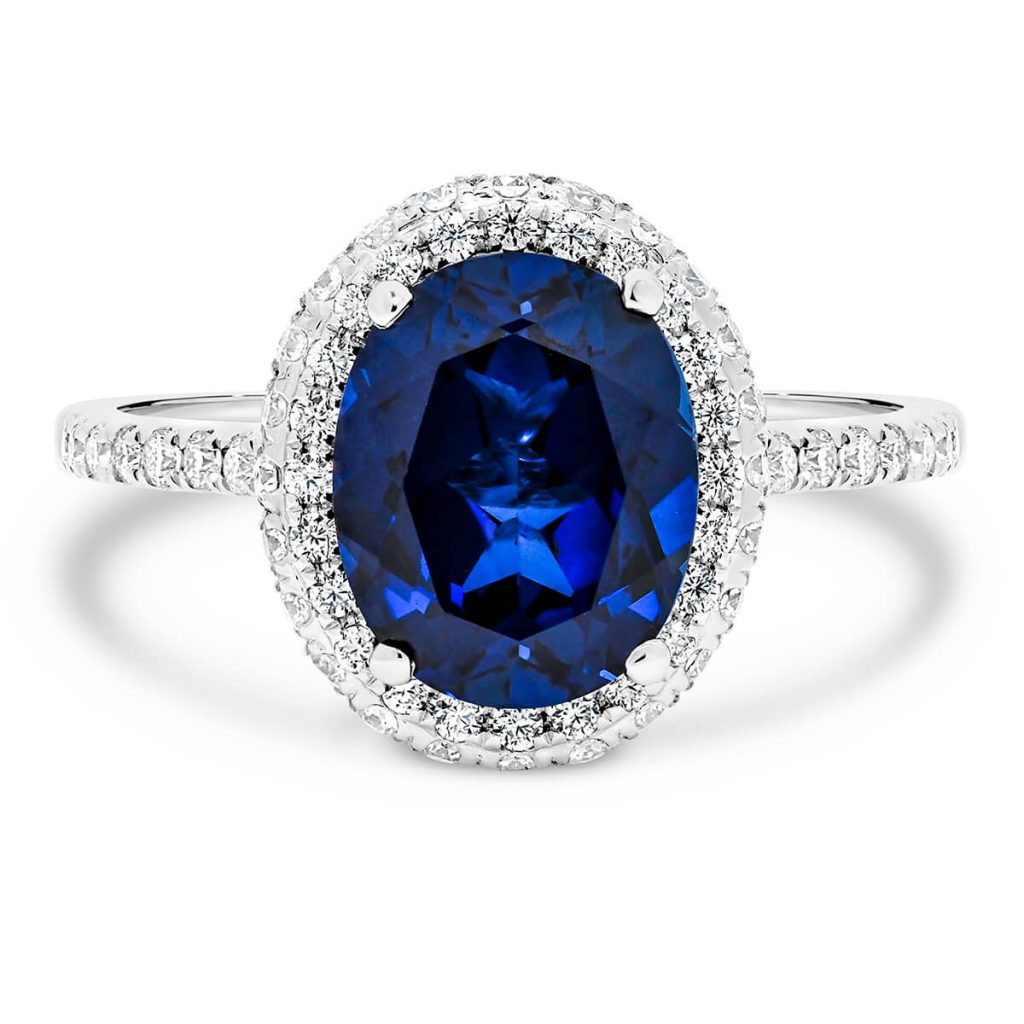 Sophistication is executed impeccably in a luxurious ring like the 'Violet'. A mesmerising halo design, the ring is encrusted with exquisite Moissanite stones for that shine that garners attention. 
Which one is your favourite from this collection? Shop now at our online store and add some colourful sparkle to your holidays!